Hi Everyone!   Today is day 2 of our week of Christmas ornaments!  Show and tell today is a Melissa Frances Glass Dome Ornament.  I placed a bird's nest inside.  According to legend, finding a Christmas tree with a nest in it was a gift of good health, wealth, and happiness throughout the year.  When Bob and I shared our first Christmas together as a married couple, he found a real bird's nest that we have placed in our tree every year since.  Working on this project made me think of our little nest.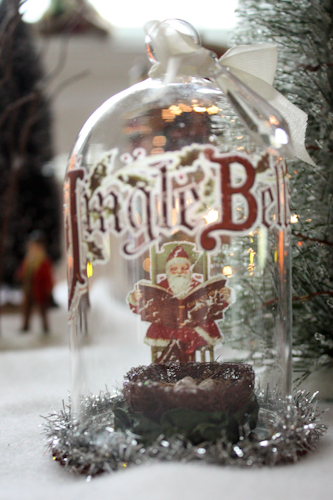 Supplies Used:  Melissa Frances Glass Dome Ornament, Prima Sparrow Cradle, Father Christmas rub-ons, chandelier drops, seambinding, hot glue gun,  Maya Road satin pleat ribbon green, silver foil cardstock, and tinsel.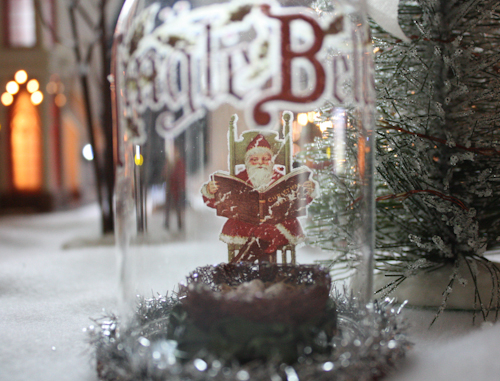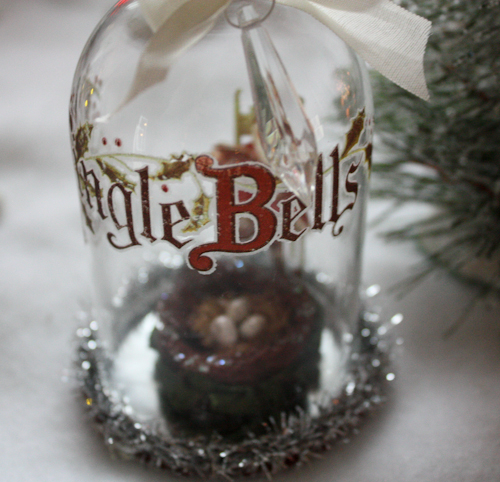 I started by adding rub-ons to the glass dome.  I used the Santa inside, and the words "Jingle Bells" on the outside.  This gives a very cool effect!  Since I was working on a curved surface, I Scotch taped the rub-on in place to keep it from moving.  Don't place tape over the image as it will make it more difficult to rub off.  Also, don't place any images too far inside, as it will be difficult to get the rub-on tool all the way inside the dome.  It takes a little work to get the rub-on transferred, but it's well worth it.
The bottom of the dome is chipboard.  I traced the top glass dome onto silver cardstock, cut out, and glued to the center of the bottom piece of chipboard.  I glued the bird's nest in the center, pleated ribbon to the outside of the nest, and the bottom to the glass dome.  I added tinsel to the bottom, and a bow with a chandelier drop to the top.
So very simple, easy, and soooo many possiblities!!   Thanks for stopping by today!!
Want a chance to win a $50 gift certificate?  Here's how to enter:
1. Leave a comment on each post this week.  You will receive one entry for each daily comment (limit 1 entry per day per post).
2.  (OPTIONAL) For an extra chance to win, blog about our giveaway! Every day that you blog about our giveaway receive an extra entry!  You may use the image below  to link us, or images of the ornaments.  IF YOU USE IMAGES YOU MUST LINK TO OUR BLOG OR STORE.   (Step #2 is OPTIONAL-I know not everyone has a blog).  If you don't have a blog, share our post on Facebook for an extra change to win.  When you leave your comment, let us know you also blogged or shared on Facebook so we can give you credit.

On Friday, a winner will be drawn from the entries.  It's that easy!!!!  Good luck, and Happy Holidays!