Hi Everyone!  This year for Christmas I wanted do something special here on the blog.  So, here's what I came up with!  Everyday this week I'm going to be doing a post on my handmade Christmas ornaments.  I hope it will inspire you to get out your supplies, and maybe make a few of your own to decorate your tree or give as a gift.  At the end of the week on Friday, we'll have one lucky winner who will win a $50 gift certicate to my online store so they can stock up on supplies to make their own Christmas ornaments.   Keep reading to find out how to enter.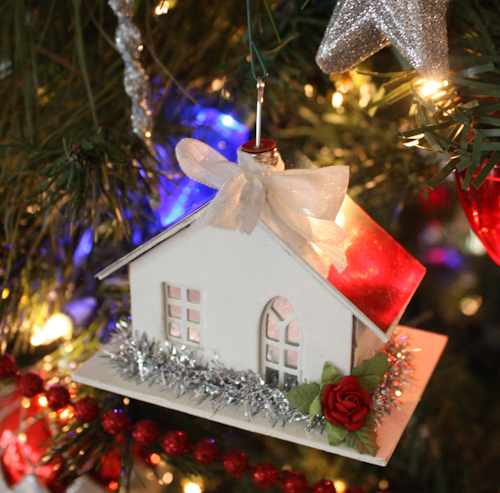 Supplies Used:  Melissa France Cottage Ornament, glue gun, white acrylic paint, 12×12 Foil Cardstock Silver, mini holly leaves, seambinding, tinsel ribbon, and a mini red rose.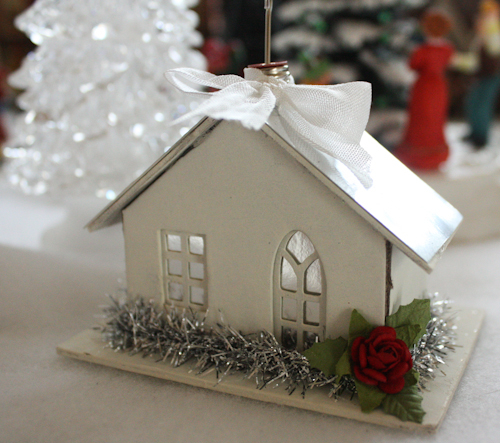 This adorable little chipboard Cottage Ornament comes naked, flat, and easy to assemble and decorate.  I painted the entire house with white acrylic paint, hot glued the window and door lattice in place, glued mirrored silver cardstock behind them, and then hot glued the house, base, and roof together.  I hot glued the ornament hanger in place, and covered the roof in more silver cardstock.  I then decorated with tinsel, seambinding, and a mini holly leaf.
Want a chance to win a $50 gift certificate?  Here's how to enter:
1. Leave a comment on each post this week beginning with this one!  You will receive one entry for each daily comment (limit 1 entry per day).
2.  (OPTIONAL) For an extra chance to win, blog about our giveaway! Every day that you blog about our giveaway receive an extra entry!  You may use the image below  to link us, or images of the ornaments.  IF YOU USE IMAGES YOU MUST LINK TO OUR BLOG OR STORE.  When you leave your comment, let us know you also blogged so we can give you credit. (Step #2 is OPTIONAL-I know not everyone has a blog)

On Friday, a winner will be drawn from the entries.  It's that easy!!!!  Good luck, and Happy Holidays!