I am so excited about the class selection
this quarter.  I will be teaching an upcycled mini album series from
July through September.  Every 3rd Friday of the month at West, or 4th
Friday of the month at Brandermill create an incredible mini album out
of recycled materials.  I will also be teaching a card class every
month from June through September.  Learn techniques such as resist,
alcohol inks, paper folding, and more!  Last, but certainly not least,
I will be teaching a 5-part art journaling series beginning in
September.  This art therapy series will focus on learning new and
exciting techniques, building self-confidence, and expressing yourself
through art & journaling.  Below are the catalog listing with complete details.  
You can call the Brandermill store in Midlothian, VA at (804) 744-6500, or the West End store in Richmond, VA at (804) 565-2000 to reserve your seat. 


"Be Fearless" Art Journaling Series with Melissa Samuels
$140/5-part series
In this self-exploratory art therapy series you'll learn techniques for
creating and keeping an art journal. Four classes delve into creating
journal pages using collage techniques, painting, watercoloring, inks,
stamping and more. Between classes you'll complete homework assignments
designed to encourage creative thinking. In the fifth installment,
you'll learn how to bind your pages into a book. This class is designed
to allow you to express yourself through art journaling and creative
experimentation. Create beautiful journal pages that are a reflection
of your creative spirit and enjoy the journey. "Creativity is allowing
yourself to make mistakes. Art is knowing which ones to keep." ~Scott
Adams
• West End: Thursdays from 6:30-8:30pm on Sept. 9th, Sept. 23rd, Oct.
7th, Oct. 21st and Nov. 4th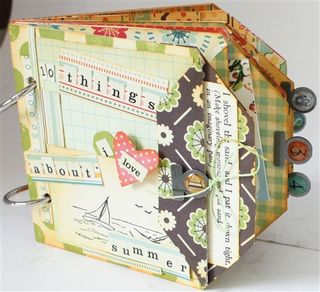 "10 Things I Love About Summer" Upcycled Mini Album with Melissa
Samuels $38
Turn something ordinary into something extraordinary! Recycle and reuse
bill envelopes to create this cute ring-bound mini album.  It has six
pockets for storing treasures, a flap with a transparency window for
adding a special photo, and ten metal tabs denoting each thing you love
about summer. Use distress ink and Glossy Accents to give your album
that finishing touch.  Think about all the possibilities next time you
receive a bill!
• Brandermill: Friday, Aug. 27th from 6-9pm
• West End: Friday, Aug. 20th from 6-9pm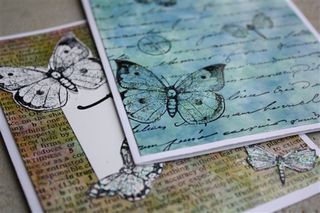 Alcohol Ink Cards Workshop with Melissa Samuels $38
In this workshop you'll create a trendy set of six all occasion cards
and envelopes using alcohol inks and stamping techniques.  Learn how to
use alcohol inks, mixatives and blending solution to create spectacular
backgrounds on glossy paper. Use alcohol inks to color coordinate
metal, plastic and glass. This is a workshop you won't want to miss and
cards are so beautiful you may want to keep them for yourself!
• Brandermill: Friday, Aug. 13th from 6-9pm
• West End: Friday, Aug. 6th from 6-9pm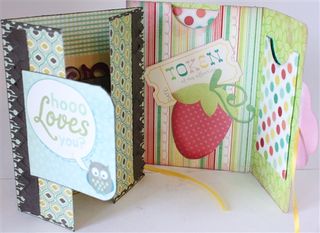 Gift of Cards That Give with Melissa Samuels $24
In this class you'll create two whimsical cards that also make great
gifts for any occasion! First, create a bi-fold card with a gift card
holder and pocket with a pull-out tag perfect for journaling, stamping
and adding photos. Then, you'll create a tri-fold card with a gift card
holder that reads "hooo Loves you?" on the outside. Simply adorable
cards any recipient would be thrilled to receive. Your class includes
the material and instruction to make envelopes for each card.
• Brandermill: Tuesday, Sept. 14th from 6:30-8:30pm
• West End: Wednesday, Sept. 1st from 6:30-8:30pm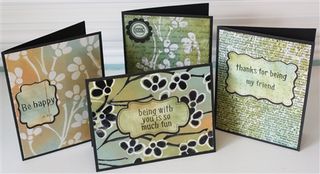 IrRESISTible Cards with Melissa Samuels $24
In this class you'll learn four resist techniques for creating unique
backgrounds on your handmade cards: crayon, wax, ink and embossing.
We'll use these techniques along with distress ink to create four sleek
and elegant cards perfect for any occasion. Resist is also a great
technique for scrapbooking and other paper crafts! Your class includes
the material and instruction to make envelopes for each card.
• Brandermill: Monday, June 28th from 6:30-8:30pm
• West End: Tuesday, June 29th from 6:30-8:30pm SOLD OUT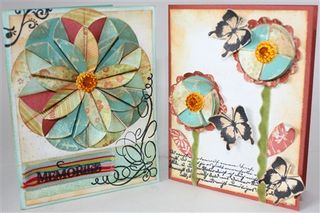 Kaleidoscope Cards with Melissa Samuels $24
In this class you'll create two distinct and unique cards using paper
folding techniques. Create a pattern resembling a beautiful
kaleidoscope, and adorable folded flowers that would be perfect for
incorporating into your scrapbook pages in addition to cards.
Experiment with Core'dinations papers, stamp ribbon, use distress ink
and Glimmer Mist. You're sure to use these folding techniques again!
Your class includes the material and instruction to make envelopes for
each card.
• Brandermill: Monday, July 12th from 6:30-8:30pm
• West End: Tuesday, July 13th from 6:30-8:30pm SOLD OUT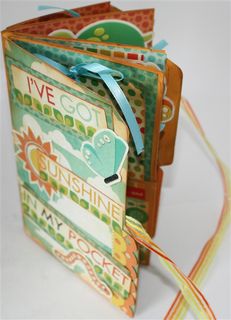 "Sunshine In My Pocket" Upcycled Mini Album with Melissa Samuels
$38
Celebrate summer with this festive pocket mini album. Using manila file
folders, acrylic paint, Stickles and distress ink, you'll create a
keepsake for your summer memories. This album has eight pockets for
holding pictures and other treasures, pull-out tags, an accordion
folded window for adding photos and journaling, and is bound with a
ribbon closure. Remember your precious summer moments all year long!
• Brandermill: Friday, July 23rd from 6-9pm
• West End: Friday, July 16th from 6-9pm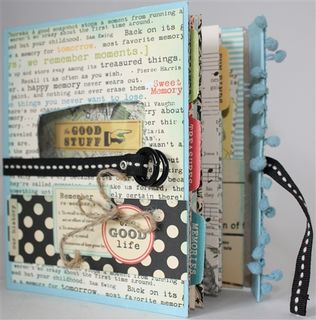 "The Good Stuff" Upcycled Mini Album with Melissa Samuels $38
Capture and keep all of life's 'good stuff' in this adorable mini
album. In this class you'll paint and repurpose a penne pasta box into
a unique mini album that has a window on the front and a pocket in the
back cover. Learn a simple technique for binding the inner pages, and
add tabs for organizing your special memories. Journaling flaps reveal
hidden pictures throughout the book. Fasten your book closed with a
stitched book belt. Penne never looked so good!
• Brandermill: Friday, Sept. 24th from 6-9pm
• West End: Friday, Sept. 17th from 6-9pm