Today I thought I'd do a quick card tutorial.  Most of the time I start with a "vision" of what I want to create.  Sometimes it turns out exactly as planned, and sometimes I take "detours" along the way.  Well, this morning I didn't have a clear plan, and I took lots of detours:))  But, that's okay.  Sometimes it's nice to just take out some supplies and go for it! That's what I did today…
I started with a piece of Webster's Hollywood Vogue paper that I cut to 8 1/2" x 5 1/2," folded on the 8 1/2" side, and crease with a bone folder.  I had a paper doilie I thought I could somehow incorporate.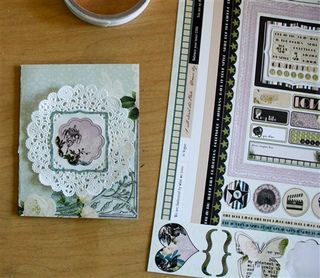 I Scor-Taped the doilie to the card, and added some coordinating stickers.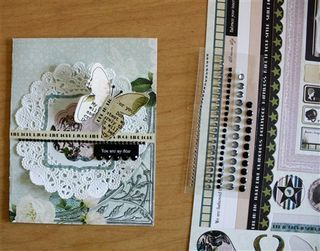 That went pretty well, so I added some more stickers and bling.  A normal person might have stopped here, but I believe in the rule "more is more!"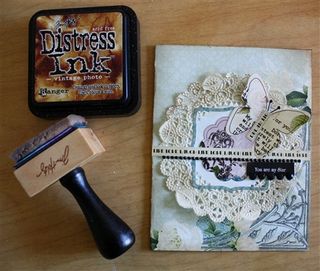 Of course, I had to pull out the Distress ink.  If I had a plan, but I didn't, I would have inked first.  I'm just going with it…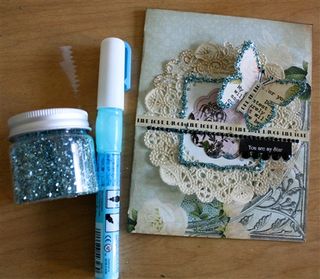 I've been looking for an excuse to use the Melissa Frances Glass Glitter I bought awhile back.  The color was right, so I gave it a shot.  I applied it using my Zig 2-Way glue pen (love that baby!).  I kinda like it!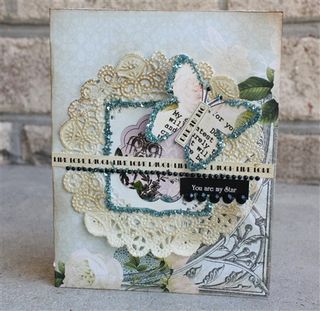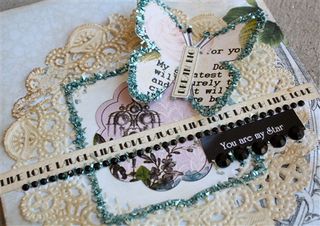 Linked: