As school is winding down, it is time to create those teacher appreciation gifts.  I thought a candy bouquet would be a perfect gift, because let's face it, who doesn't love candy?!  They also make great gifts for other occasions, such as birthdays, Father's Day, get well soon, house warming, etc.  Just tailor the container and candy to the specific occasion and recipient's tastes.  I used a large candle holder as my container, but you could use a vase or jar.  Depending on the size of the container, vary the number of full size candy bars you add (i.e. for a taller, larger container add more candy bars for a fuller arrangement).  Mix it up by picking different color containers, patterned cellophane papers, and different types of ribbons.  Let's get crafting!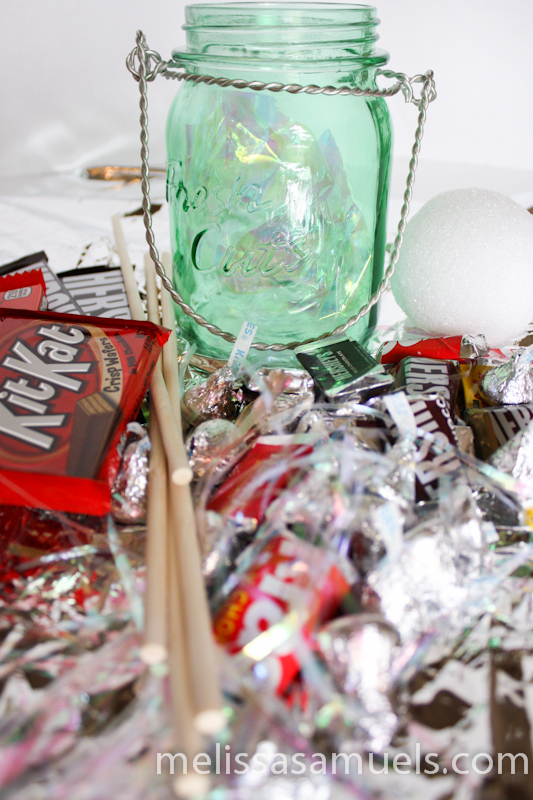 All you need is a container, wooden dowels, packaging tape, cellophane paper, tinsel (optional), styrofoam ball, ribbon, full size candy bars, and assorted miniature candies.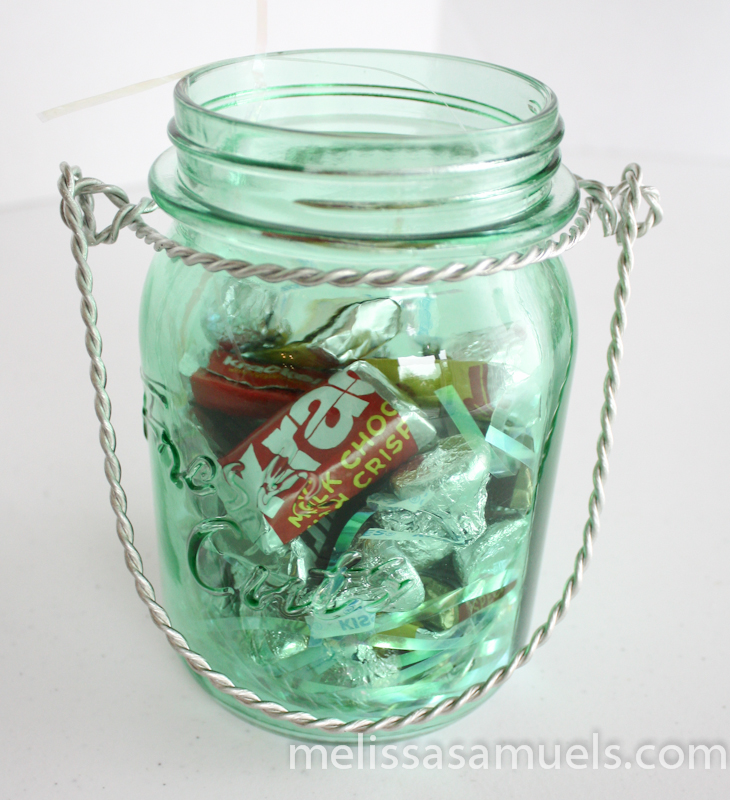 Add tinsel, then miniature candies to the bottom of the jar.  I used assorted Hershey miniatures and Kisses.  If you have a large jar you can add cellophane paper in order to add less candy.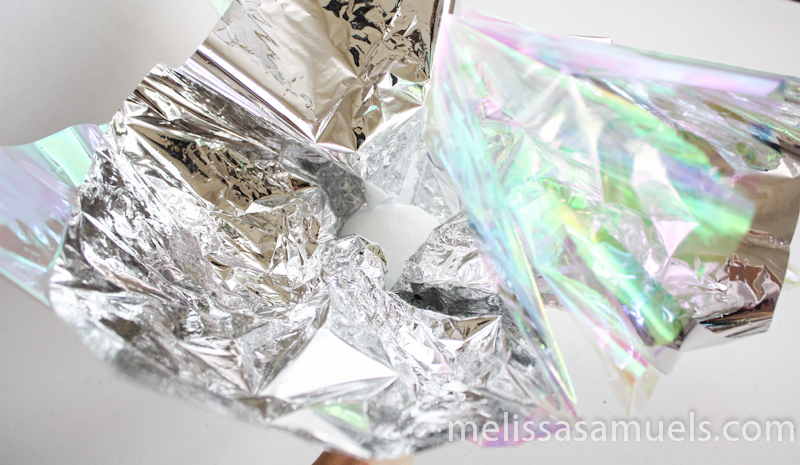 Wrap the cellophane paper around the bottom and sides of the styrofaom ball, gathering if needed (depending on the opening of your jar).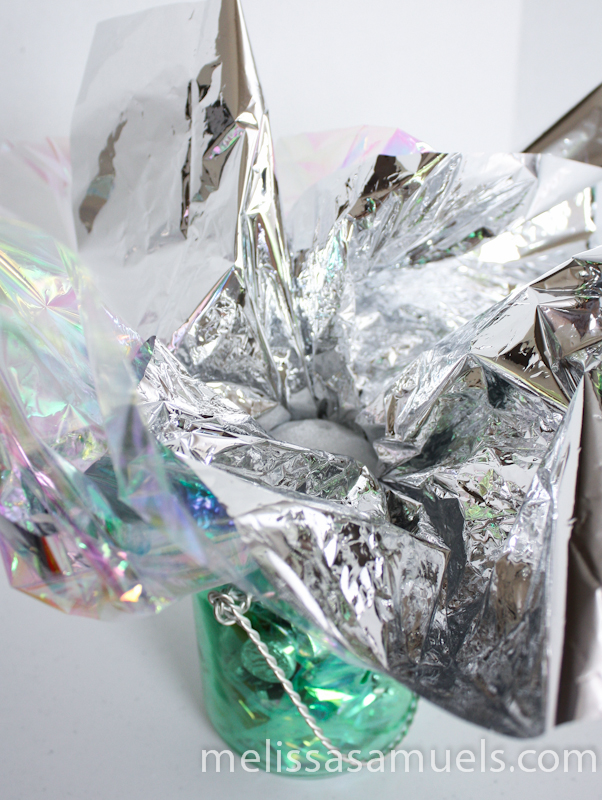 Insert the ball with cellophane into the mouth of the jar pushing the ball until the fit is very tight.  If you have a very large mouth jar, and can't find a ball that fits, you can purchase sheets of thick styrofoam and cut to size if you don't already have some sitting around from left over packaging (it doesn't have to be a ball, it just has to fit tightly into the mouth of the jar and be thick enough not to break when the dowels are inserted).  If you have styrofoam balls that are slightly too large, trim with scissors or a piece of wire.  If your fit isn't quite tight enough, add an extra sheet of cellophane paper around the ball.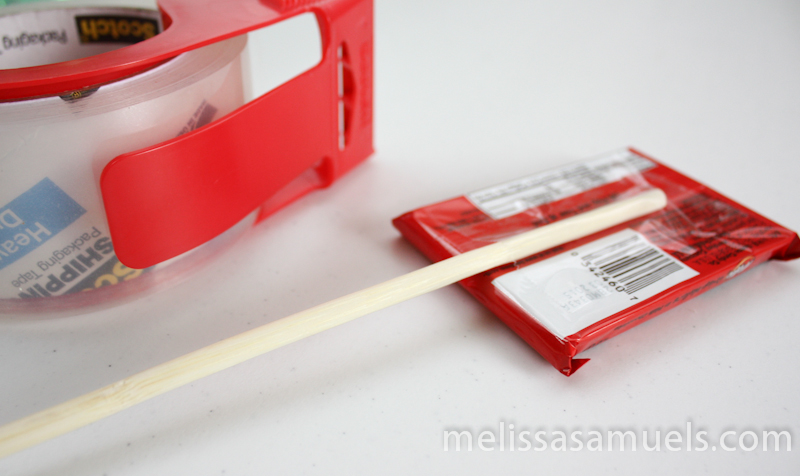 Attach wooden dowels to the back of the full size candy bars with packaging tape.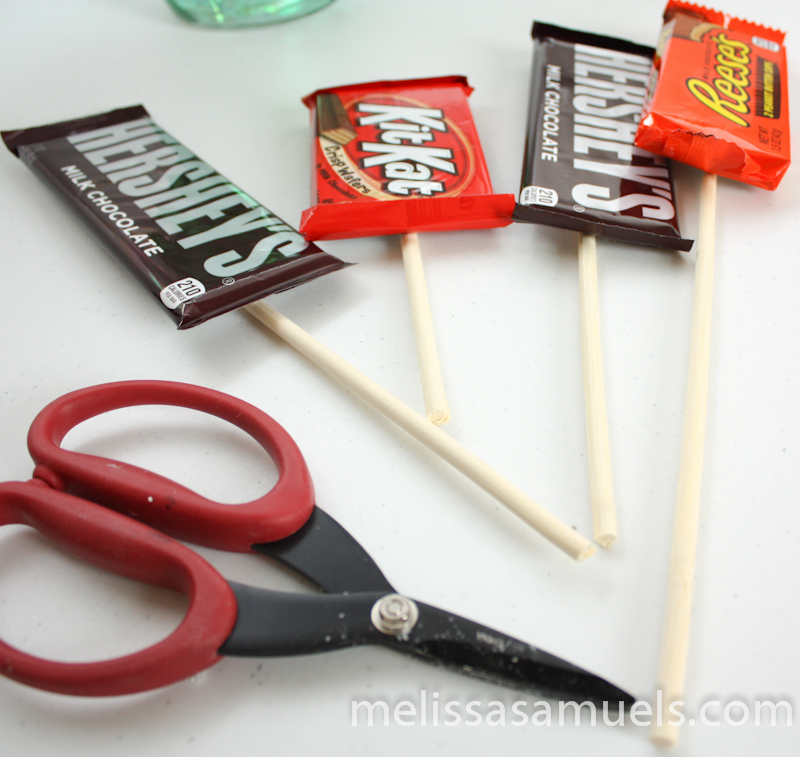 Cut dowels to varying lengths by hold against the container to get an estimate of where the dowels need to be trimmed.
Arrange the candy  bars by inserting the dowels into the styrofoam ball.  When adding the bars on the sides of the container (the milk chocolate Hershey bars in our tutorial) slightly angle the dowels when you insert them.  Tuck some of the cellophane around dowels to hid the ball.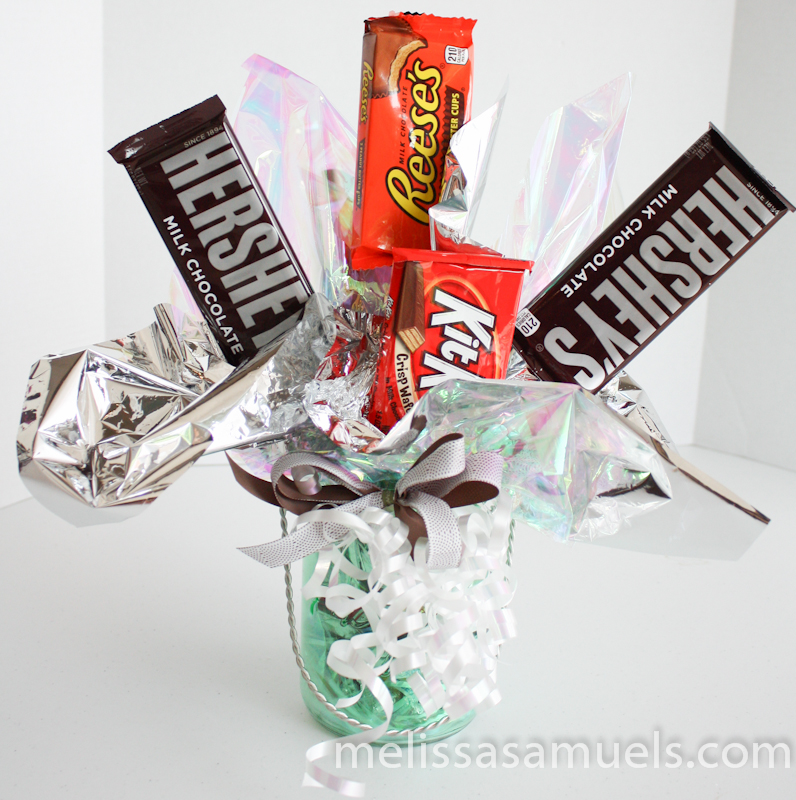 Add a ribbon, and you're done!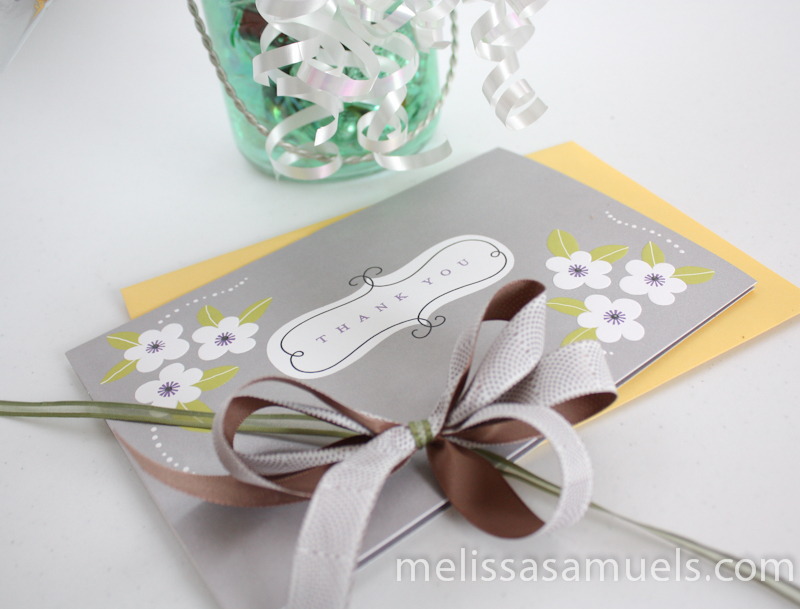 Give with a nice thank you card, and even gift card inside.
I hope you enjoyed this tutorial as much as I enjoyed doing it.  Oh, and don't forget to save a piece of candy for yourself! 😉
If you would like to subscribe to my blog so you don't miss a post, scroll to the bottom of this post, enter your email address, and click "subscribe."  THANKS!! xx