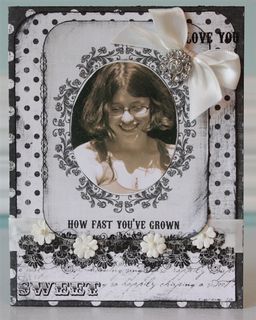 It's hard to believe, but my baby is graduating high school!  It seems like only yesterday I was bringing her home from the hospital.  My, how time flies!  She has grown into such an intelligent, responsible, and beautiful young
lady.  I am so proud of her, and all of her accomplishments.  She's looking forward to college in the fall, though, I can wait. 
I thought I'd make her a special card to commemorate the occasion.  She's a no frills kinda gal, so I thought simple black and white papers would be a good choice.  I used My Mind's Eye Meadow Lark, and I couldn't resist a Bazzill Vintage Button.
You can't see it in the picture, but she's holding a gorgeous butterfly.  I thought it was fitting.