I have several things to share with you today.  I'm going to give you a little blog tutorial on an easy Mother's Day card idea.  Today is also Day #3 of my Tool School video series.  You're going to see a button shank remover in action in today's video.   I also have an update on Basic Grey's Page of the Month kits.   And, last but not least, we have a winner for last week's giveaway.
I'll start with the Mother's Day card, because there are probably many of you who are in need of some card ideas.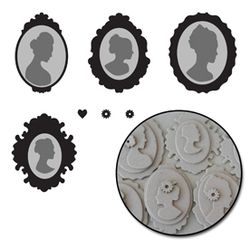 You'll start with the Maya Road Mini Chipboard Cameos Set.  You'll also need Distress Ink, I'm using Vintage Photo, 7 Gypsies tissue paper, gel medium, Webster's Pages Lotus Blooms for embellishing, and white acrylic paint.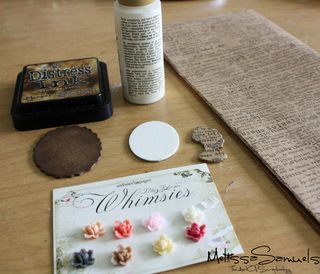 Rub the bottom layer of the cameo frame in distress ink, and paint the middle layer with acrylic paint.  Rough cut the shape of the cameo silhouette out of tissue paper.  Brush the silhouette with gel medium, lay the tissue paper over the silhouette, and brush the top again with gel medium.  The tissue paper "melts" to the chipboard.  Scor-Tape the pieces  together to form the cameo, and add a lotus bloom resin to the silhouette's hair.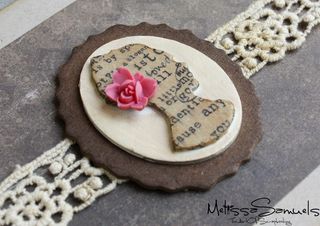 Add it to the front of a card with a strip of Prima lace, and you're done!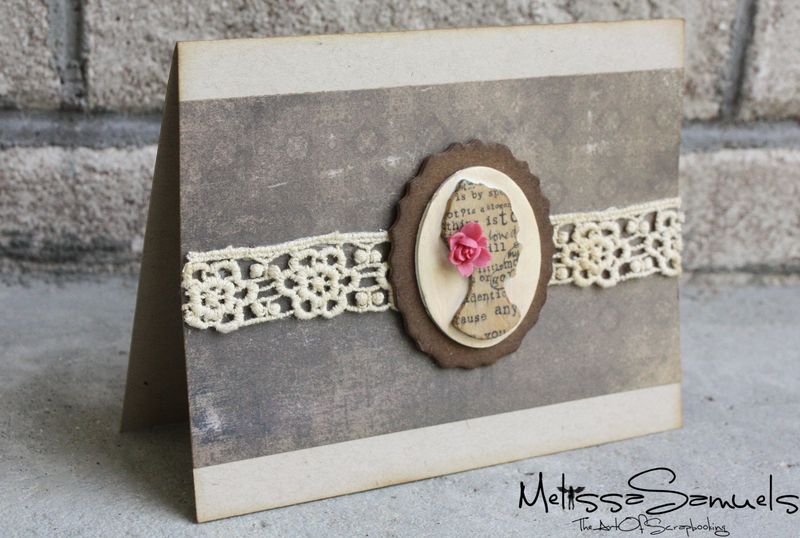 ———————————————————————————————————————
Day #3 Tool School Video-Button Shank Remover
——————————————————————————————————————-
Basic Grey Monthly Page Kits for May and June are due to arrive late this week!  If you pre-ordered your kit it should be shipping around Monday, May 9th.  You'll recieve a tracking notication when it ships, so be looking for that.  If you haven't pre-ordered your kits there are 4 kits left (click here to order) .  You are more than welcome to order product with your kit order.  The kits are sold 2 months at a time.  The kits shipping on Monday are May and June kits.  This is great because it saves you shipping.  Here's a peek at the actual layouts.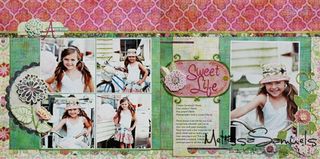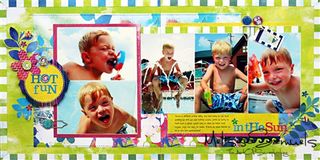 ——————————————————————————————————————–
GIVEAWAY WINNER!
Thank you all so much for the lovely comments last week on my giveaway blog post.  Here's the not so fun part, "ONE" winner has been chosen.  Since I can never pick, I used Random.org to generate a number between 1 and 28.  The winner of last week's giveway is comment #8:
Posted by: Dawnll | Tuesday, April 26, 2011 at 12:32 PM
 Congratulations, Dawnll!  Contact me at melissa@melissasamuels.net to claim your prize.

Linked: