Hi Everyone!  I hope you all have had a wonderful summer!  We have had lots of adventures and quality family time here!  As summer is winding down, that means it is back to school for the kiddies, unfortunately.  Last week was our girls' first day back.  I miss them like crazy, but the transition back to a routine has been smooth, despite my disdain of rigid schedules.
Now that the girls are back in school, I have been back in the studio more.  Last week I was having some very strong emotions…feeling very introspective.  I have so many wonderful things in my life: a loving husband, adoring children, wonderful family, amazing group of friends, and career opportunities doing what I love.  I am very fortunate!
Life has it downs, too.  Our family, like most, has suffered great loss and pain.  However, it is those life experiences that shape us into the individuals we are.  We can face adversity head on, get knocked down, dust ourselves off, and learn, or we can give up and let the darkness overcome us.  I am a fighter.  I always have been.  It is sometimes extremely difficult, but I choose to see the good that can come from a bad situation or experience.  It is so easy when faced with great loss to only focus on that loss.  I am learning to be grateful for everything before that loss, and embrace the turns my life has taken since.  I truly am blessed.
It is often difficult to understand when someone is going through a tough time in their life.  It may not be something they can talk about.  On the outside they may be smiling, but they could be dying on the inside.  Certainly, we have all had this experience at some time or another.  Having  a personal art journal is a great way to release these emotions.
When I sat down in my studio last week, I wanted to pour onto an art journal page all of the emotions I was feeling surrounding loss in my life.  This is what art journaling is all about, expressing yourself!  I didn't just want to make a "pretty page."  I started with a completely black page using acrylic paint.  In the middle of the page I used gesso to create a big white circle.  From the middle of the circle outward I layered paints, inks, ephemera, modeling paste, and gelatos.  I cutout pretty flowers from cardstock to add to the last layer, and crackle painted over them.  I cut out and inked butterflies, and made them look like they were flying out of the middle of the page.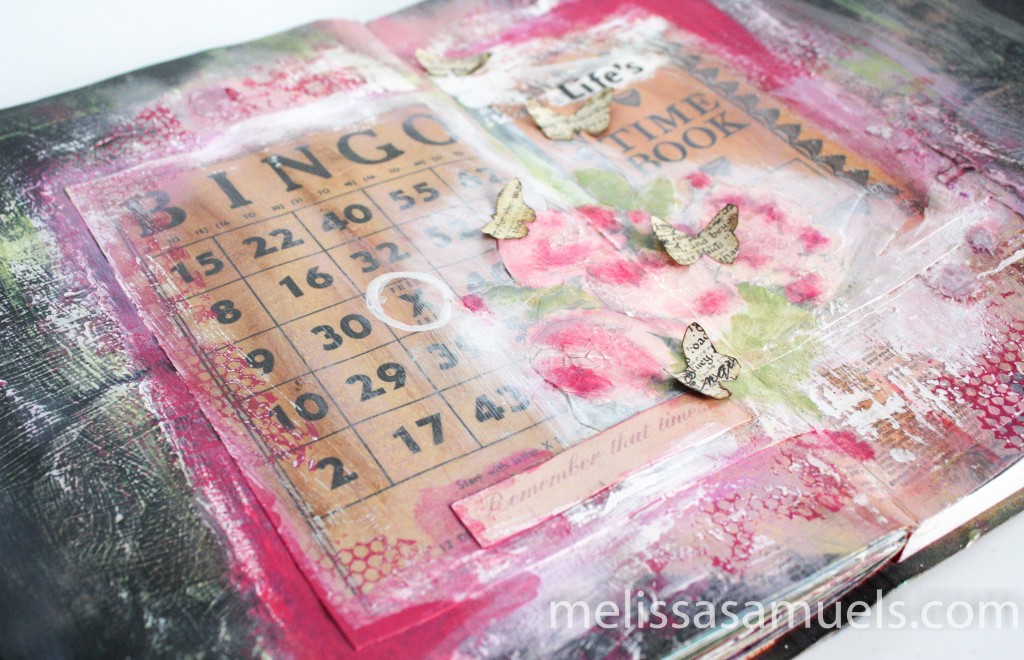 The black paint represented darkness.  The white circle represented light shining through the darkness.  All the pretty layers on top represented the beautiful things in life.  See, sometimes all those pretty things break through the bad, and you no longer even notice the darkness…or the darkness is transformed into a part of something beautiful.  However, sometimes, all the pretty things just disguise the darkness that is beneath.  I have experienced both, as I am sure everyone has.  I would guess it is a function of where you are in the healing process.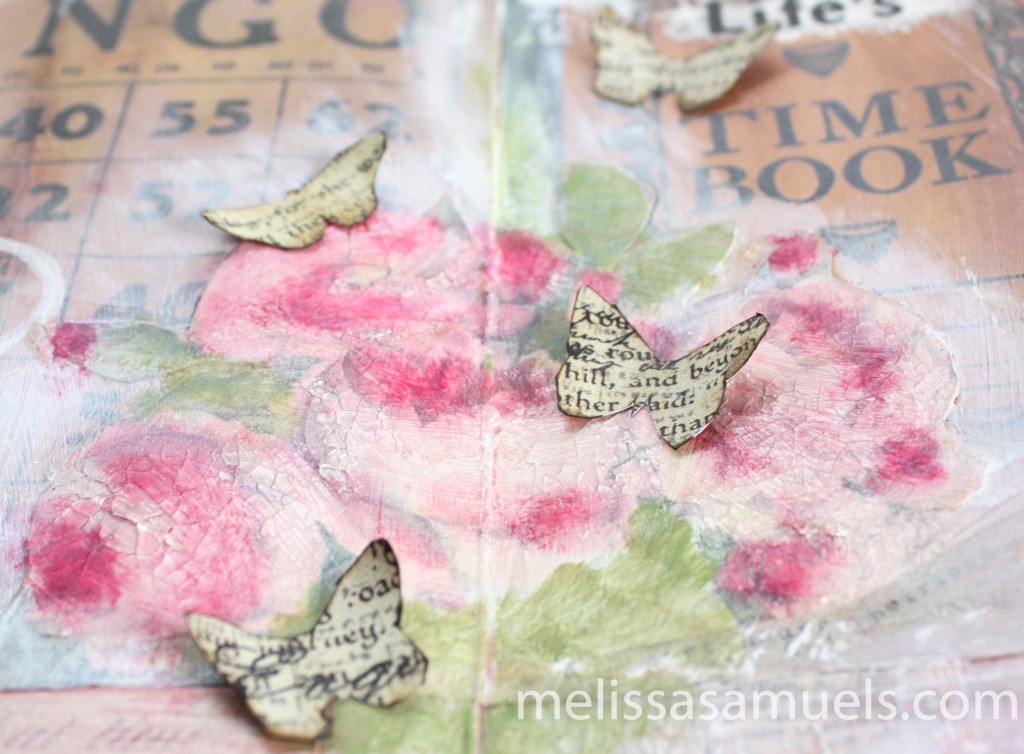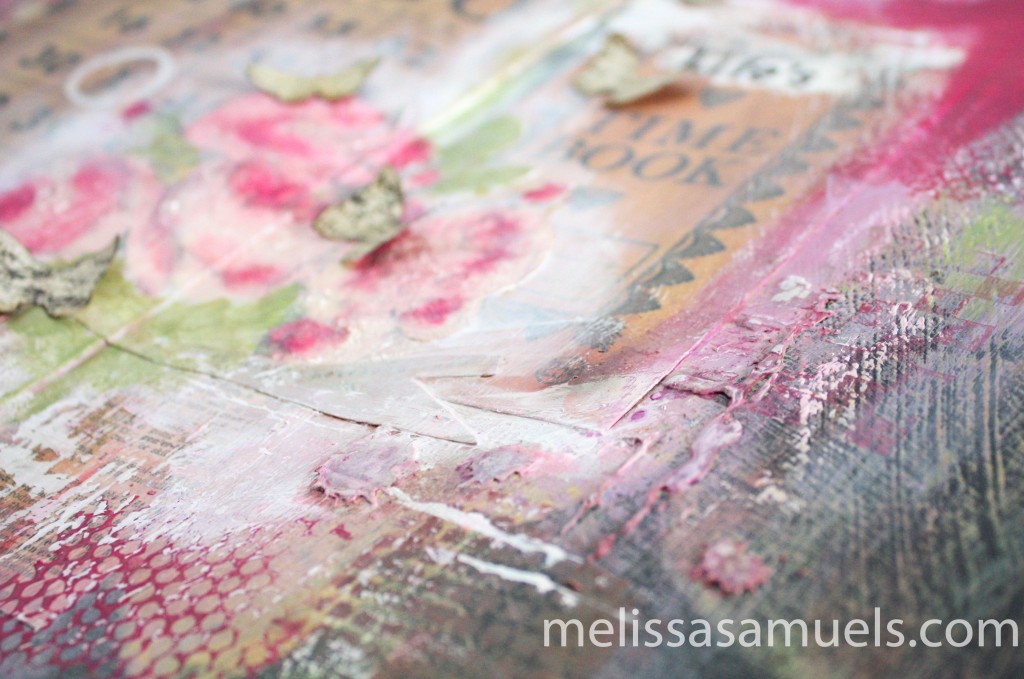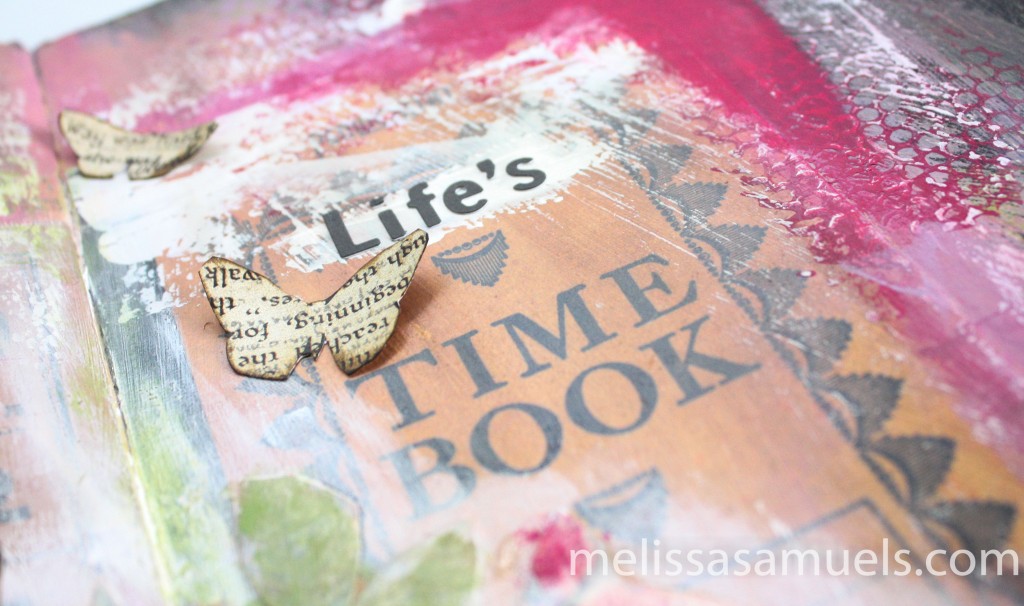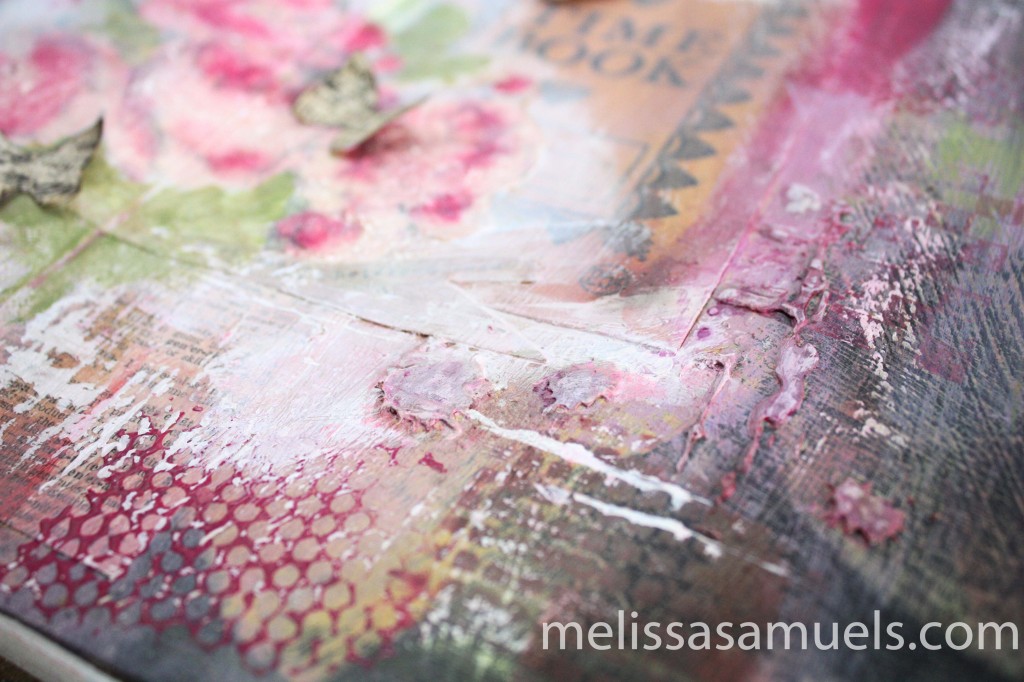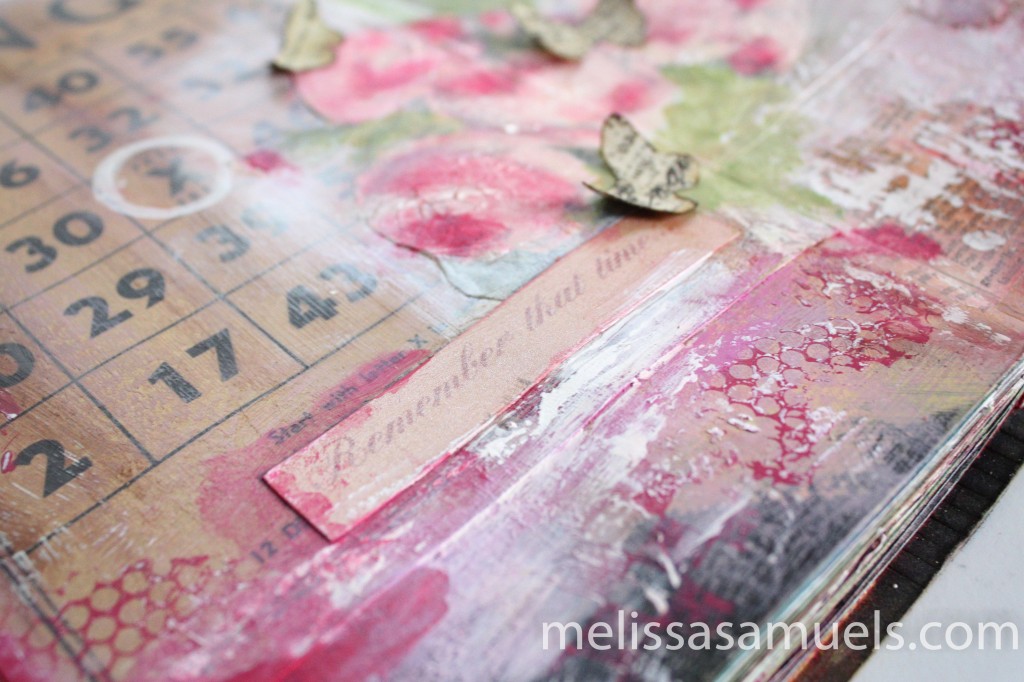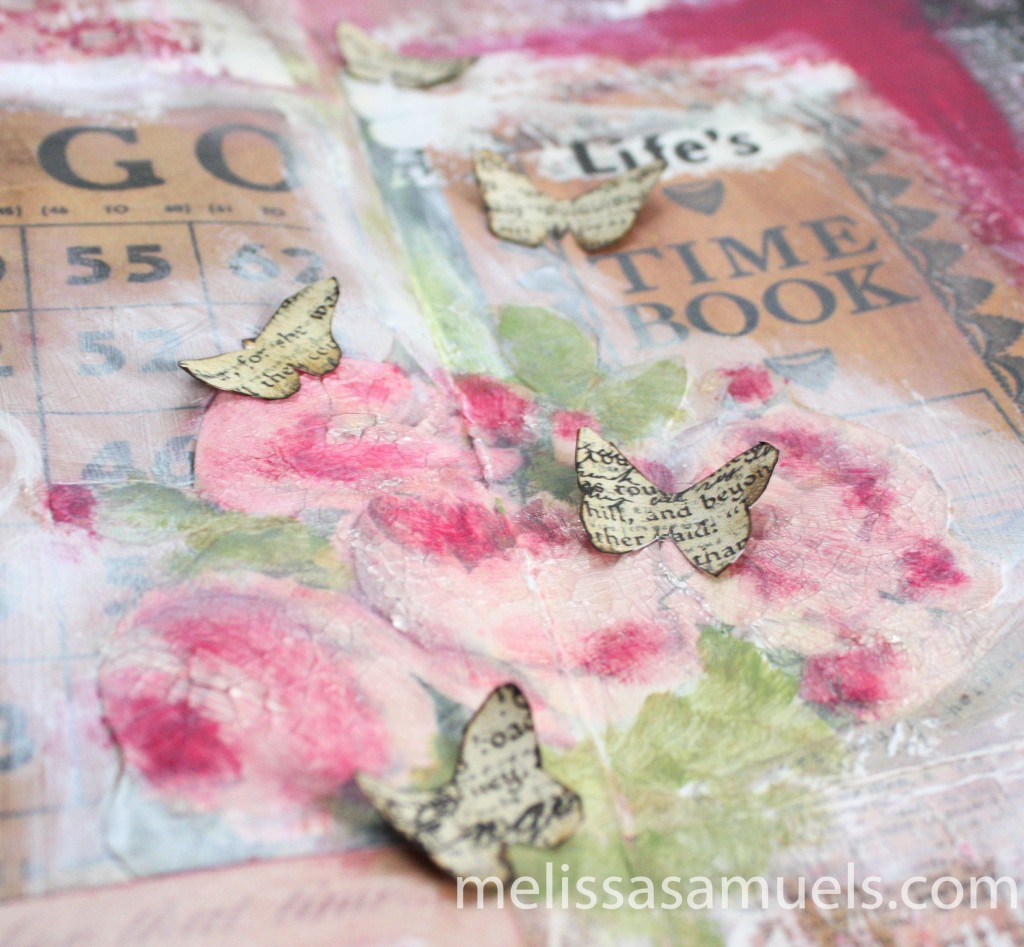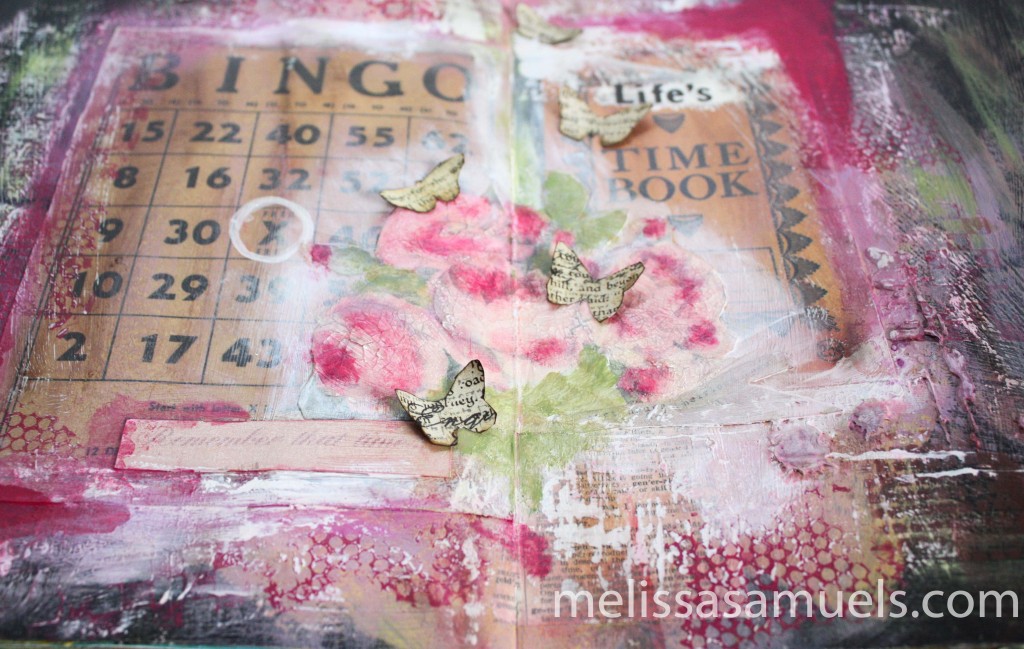 It felt good, I mean REALLY good to express this mix of emotions onto a page.  I felt a sense of release when I was done.  Art journaling is an amazing thing.  So, good or bad, pull out those journals and pour those emotions onto a page.  xx