It's May day!!  If you just arrived, let me get you caught up.  I created a mini book using an easel album for my little girls, Maddie and Lily.  I thought it would be fun to make a book with a picture of them each month so I could see how much they grow and change over the course of a year.   It was a really fun, personal project that I have loved doing.  It was a bit of a challenge because I had to keep the pages simple without a lot of embellishments to keep my book from being bulky and preventing it to close because of the flap I created on the cover.
I love May, not only because of Mother's Day, but it is Maddie's birthday month, too!  This page has a photo of them giving me a Mother's Day "show" in the driveway.  Maddie is doing tricks on her new scooter she got for her birthday, and Lily is like a race car driver with her Big Wheels.  A fun day!  May seemed like the month that they both really shot up!
I used fabric tape (blue green "Paris" tape), which I liked, but I am still hooked on the washi tape.  I did a photo mat for Lily's picture using a sandable kraft core paper.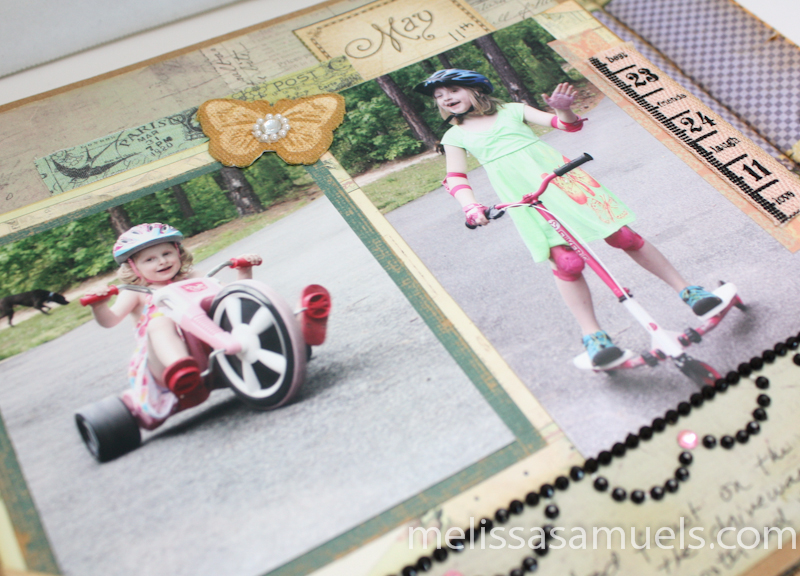 *To see April's full post CLICK HERE
*To see March's full post CLICK HERE
*To see February's full post CLICK HERE
*To see January's full post CLICK HERE
*To see the full post of the front cover CLICK HERE
Come back tomorrow for June!