Hi Everyone!  We are up to June in my annual mini book of my girls.  It is wonderful to do this post, as it is snowing here in Virginia as I write.  Ahhh, remembering that warm summer day last year is quite appealing right now.  In 2012 Bob and I took our girls camping for the first time, and they had a blast.  It was the second time camping for me, but the first hardly counts because it was on a deserted beach-Bob is no dummy when it comes to getting me to try new things outdoors.  Camping in the creepy dark woods is a little bit different of an experience than listening to the waves crashing on the shore all night and being awakened by the most spectacular sunrise over the ocean.  Ahhh…  Sorry, got a little side tracked in my happy place.  Since I have a limit to how many times per summer I am willing to take the girls creepy dark woods camping, we all agreed the best compromise was to do backyard camping.  Let me just say, that is the way to go.  That is, if you cannot find a deserted beach.  It was a blast for everyone!  Bob set up the tent, we all played ball toss, built a campfire, and had a fabulous night under the stars.  Best of all, the bathroom and hot shower were not far away.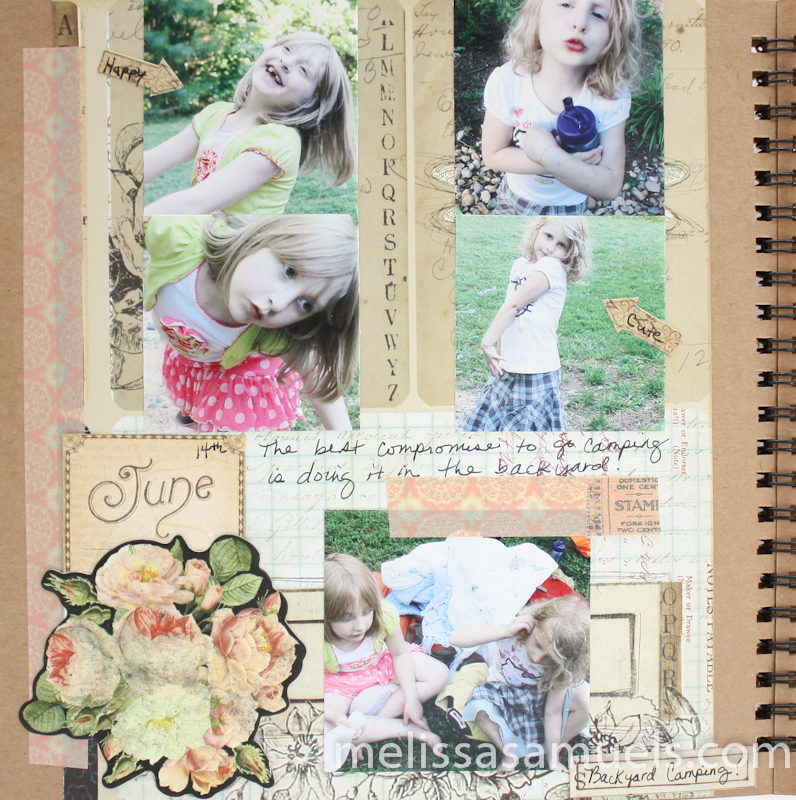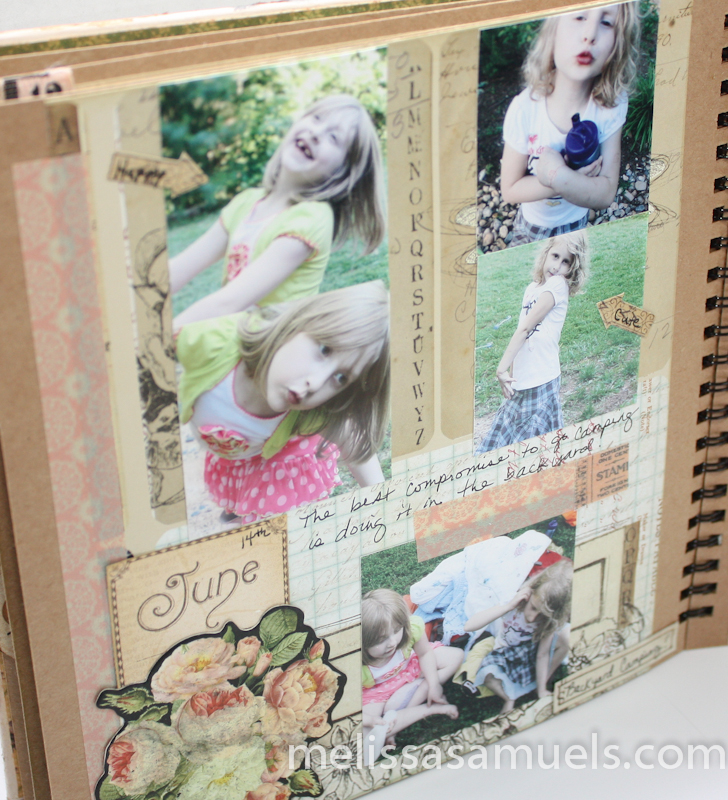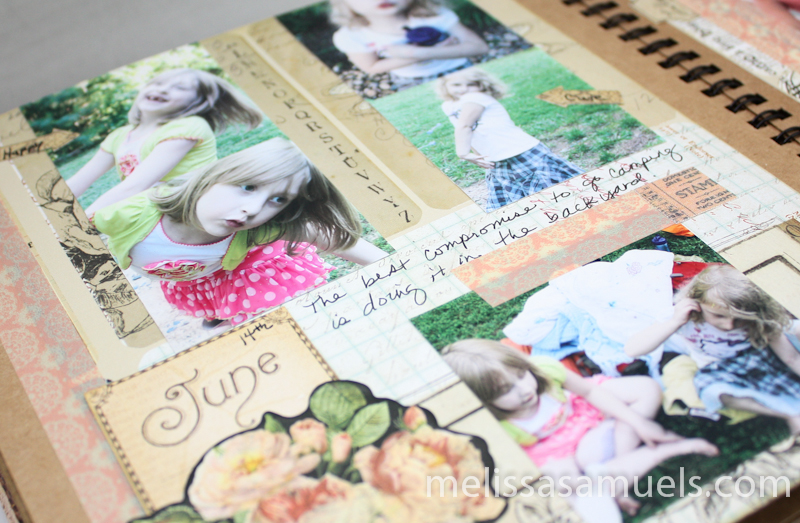 On this page I tried out  Prima's Everyday Vintage Love Letter paper kit.  I LOVE it!  It is awesome, and extremely easy to work with because of the neutral color palette-shades of taupe.  It also came with stickers.  I love the little arrow ones that are blank so you can add a little word.  There is another paper pack in that line called Flora.  It is okay, but darker colors and a little bit too much red-maybe for Valentine's Day.  We will see because I have them both, of course.  I used more washi tape, sorry, I am hooked!  I am telling my self by using it on several pages I am adding continuity to my book…yeah, yeah that is it.   The flower (from I believe Tea Thyme-not certain) I peeled the chipboard off and only used the image to help keep the bulk down in my book.  It has to close.  If you do not know what I am talking about, take a look at previous posts.
I hope you have enjoyed peeking at our camping trip, and my mini book page of June.
*To see May's full post CLICK HERE
*To see April's full post CLICK HERE
*To see March's full post CLICK HERE
*To see February's full post CLICK HERE
*To see January's full post CLICK HERE
*To see the full post of the front cover CLICK HERE
Come back tomorrow for July!