Hey guys! You've probably heard about the mass hysteria surrounding the new Ranger Tim Holtz Seasonal Series Fall 2011 Distress Ink Set.  If you haven't Tim Holtz announced last week that he had come up with a new limited edition seasonal set of 3 distress inks.  Not expecting the overwhelming demand, Ranger was sold out of ink sets in only 6 hours!!  Retailers were extremely limited to how many they could purchase.  My store sold all of ours on pre-order in 1 day.  Ranger, being such an awesome company, announced this week that they would be producing another limited batch in an effort to help meet demand.  I immediately placed another order for my store.  The second set of ink sets are in production, so there isn't an exact ship date yet, however we are expecting them around the beginning to mid October.  We are, again, taking pre-orders for anyone interested in purchasing a set from the second batch (CLICK HERE TO PRE-ORDER).
I didn't snag a set of inks for myself from the first batch (that shipped on Tuesday from my store, btw), but I had a very good friend order a set and let me play around with it.  Now, that's a good friend!!   The colors are so rich and vibrant…yummy!!  The three new limited edition colors are:  Seedless Preserves, Gathered Twigs, and Ripe Persimmon.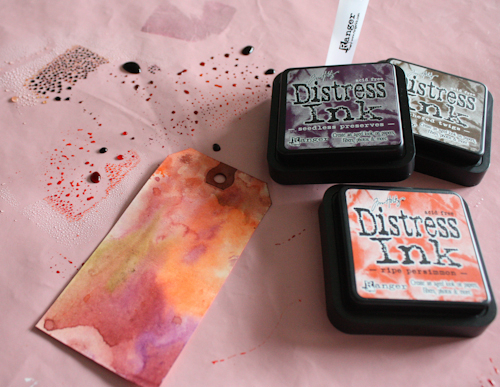 To create my tag I pressed each distress ink pad directly onto my non-stick mat.  I spritzed it was a little water, and placed my tag face-side down into the inks.  I dried the tag with my Heat It Craft Tool (heat gun), and repeated the process until I had a look I liked.  So easy!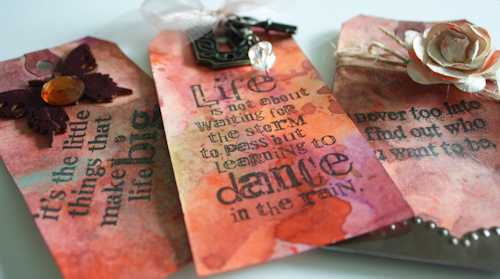 I stamped them with Stamper's Anonymous Tim Holtz "Good Thoughts" stamps and decorated.  I hope you enjoy!