Hi Everyone, and happy Wednesday!  I have been feeling extremely creative lately, and starving to try new things & challenge myself.  A couple of days ago I shared with you guys a tutorial of a mixed media fabric  journal cover (click here if you missed the post).  I do not work with fabric a lot, so it was fun to try something different.  I LOVE the the journal, especially the blue and white color combination (a kick I seem to be on recently) and the texture of the fabric.  Once it was finished, I had all of the scraps sitting on my desk yet again destined for the trash bin…or so I thought.  Of course, I did not want to throw them away, so I challenged myself.  What if I could make a card using the same concept as I did with the journal cover?!  It's not everyday you see a fabric card, right?!  The challenge was on!  I basically used the same technique of layering paper, fabric, and lace as in the journal tutorial. I used Scor-tape and Glossy Accents as adhesives (instead of gel medium).  I used white acrylic paint to soften the paper edges, and Tarnished Brass Distress Stain around the edges of the card to match the flower edges.   I hope you enjoy!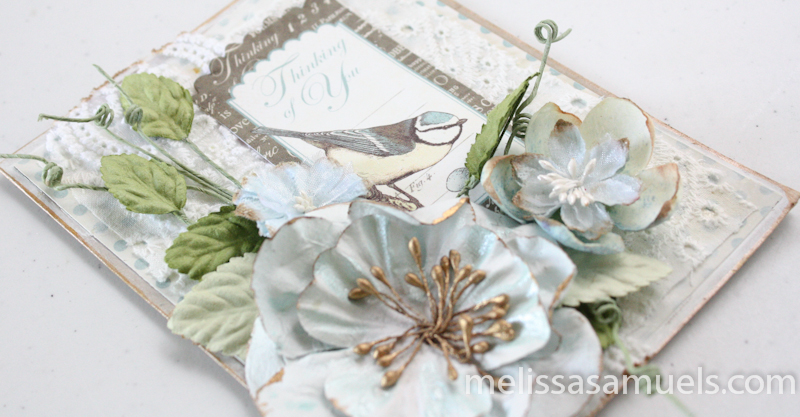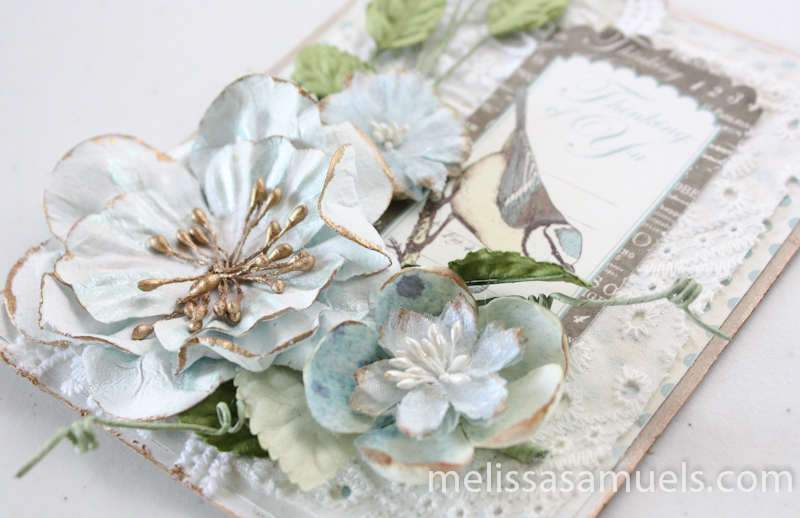 The flower on the right is the outer petals of a flower I pulled apart to use the center, and accidentally ink sprayed the discarded piece.  I threw it in my flower bin hoping someday it might be of some use.  I am glad I did not toss it. I placed another flower in the center of it, and I think it looks great!
Paper tag used is from Graphic 45 Botanical Tea Pockets and Tags and flowers are by Prima.
Thanks for stopping by!