Since we were up to October in my yearbook mini album in yesterday's post, I thought I would take this opportunity to show you guys a little Halloween project I did last fall.  Halloween in February…works for me!  I don't always have the time to make a lot of projects for myself, but I always make time to create a Halloween album for the girls' trick-or-treat photos.  If you saw yesterday's post, you know I have some doozies for 2013.  I had this fabulous Graphic 45 5×8 Altered Art Box with accordion album inside stashed away in a drawer.  Unfortunately, it has been discontinued (no hate mail please-blame G45

), so I have been hanging on to the last one waiting for a special project to use it. The good news is even though this box has been discontinued, they are releasing a Book Box very similar, but with a tag album inside and a single, solid flap.  So, hang in there, a replacement is on the way.  Yay G45!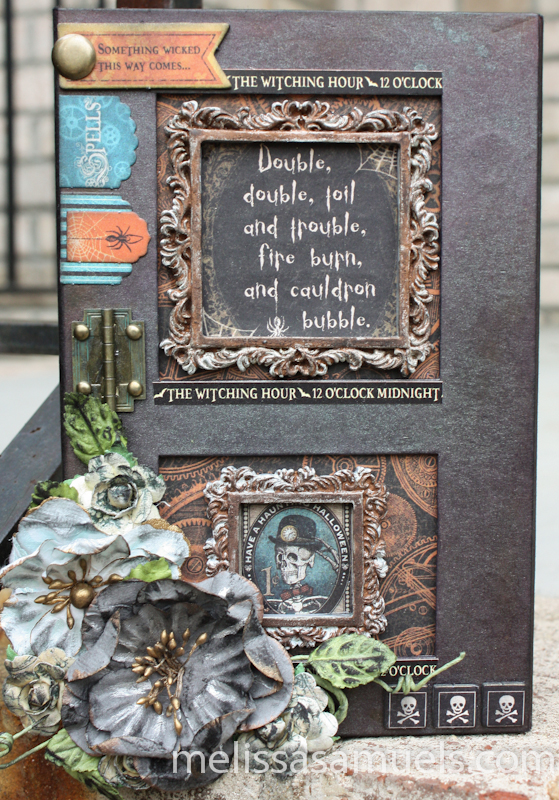 I adore this box!  Love, love, love it!
This is how the kraftboard box comes.  It has 2 flaps with a magnetic closure that opens up, and there is a thick kraft paper accordion album inside.  I sprayed the heck out of it with Afraid of the Dark Glimmer Mist. Then, I spot sprayed with True Blood Glimmer Mist.  Glimmer Mist is awesome for projects like this because trying to cover this box with paper would be very time-consuming because of the flaps and cutouts.  Tissue paper like on our 8×8 easel album project, or acrylic paint are other great options, fyi.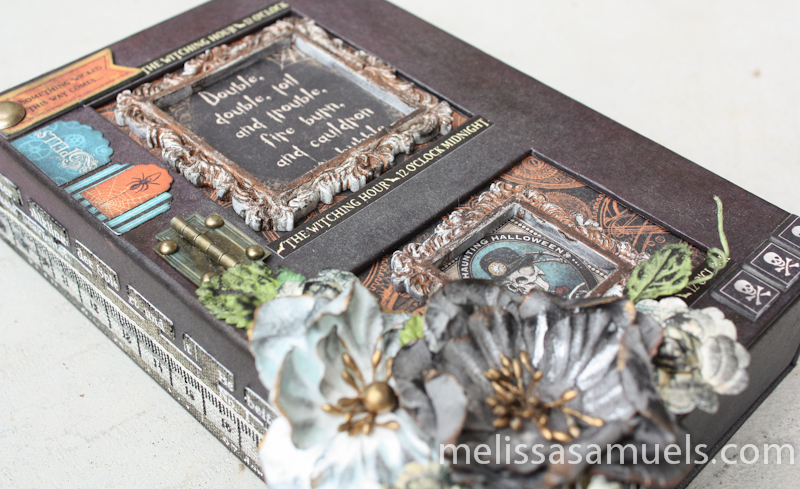 For the spine, I Glimmer Misted some Prima resist canvas borders.  I love canvas resist because you can color customize it to your specific project.  All of the paper, chipboard, stickers, banners, etc that I used are from the Graphic 45 Steampunk Spells collection, my fav.   The flowers are Prima Bellas Mulberry flowers soft blue and grey that I placed over a Prima vine.  I hit the flowers with a little Black Soot Distress Ink to pull all of the colors together.  I glued the G45 hinge on with Glossy Accents.
By sheer luck, I had a 2 pack of Prima Resin Frames that fit perfectly into the box cutouts.  They come in white, so I used copper alcohol ink to color them (it is what I had in reach that was a nice color).  I glued a paper cutout from Steampunk Spells onto the back of each frame.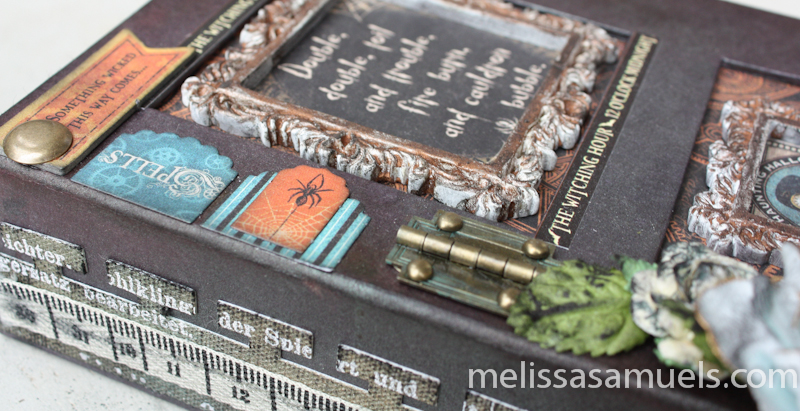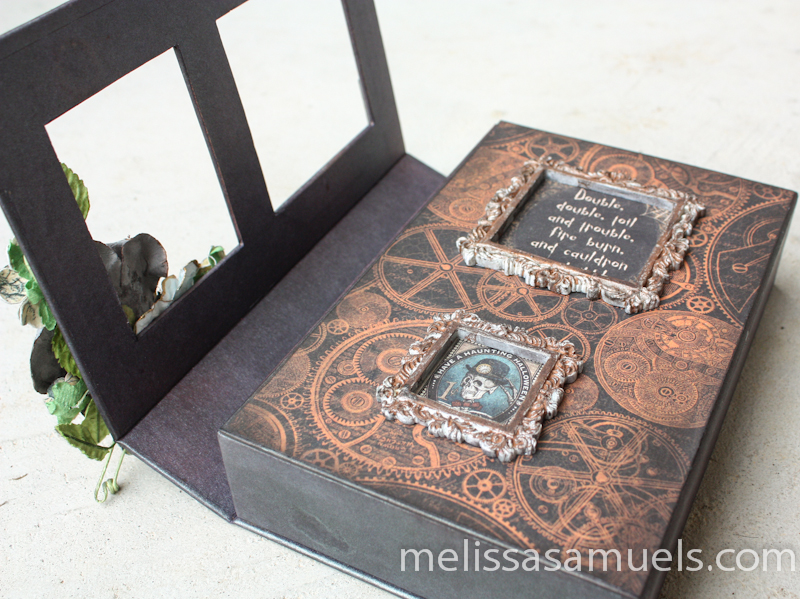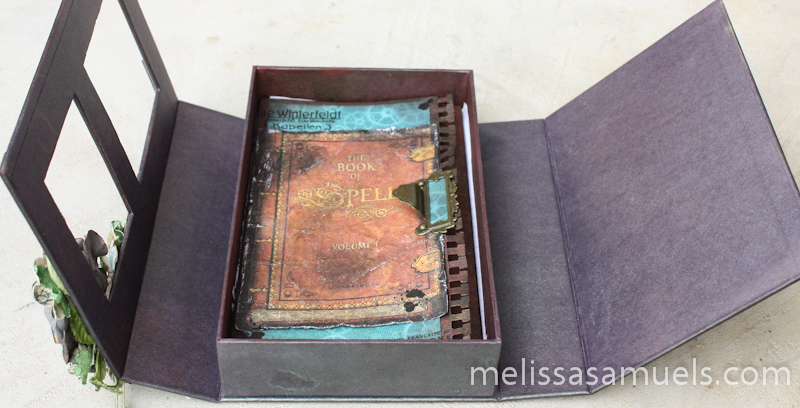 The box opens up, and there is an accordion album inside.  I may go back and add paper to the right flap-haven't decided yet.  I paper punched the border of the album with a notebook edge.  I  Glimmer Misted the album and decorated with more Steampunk Spells paper.  I then crackle painted it, distress inked it, added rub-ons and  a G45 Metal Label Holder as a handle to pull the book out of the box easily.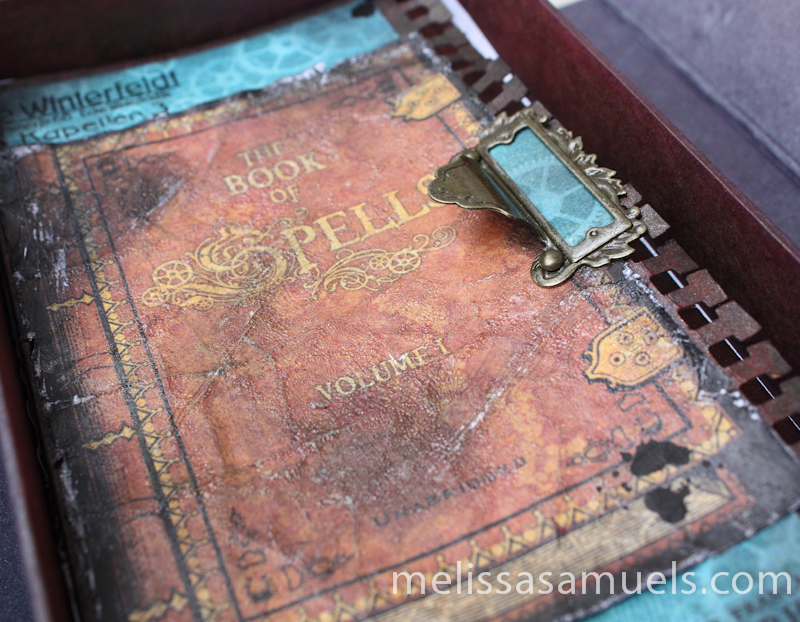 I have not added my photos yet, so maybe I'll show you the whole accordion album once it is completely finished, but you get the idea.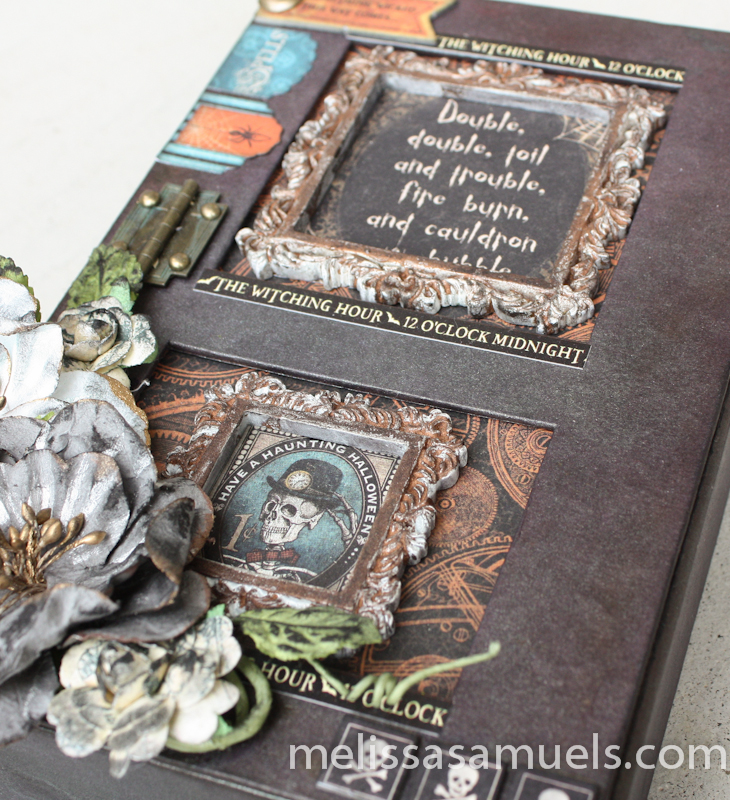 I hope you like this box as much as I do.  I had so much fun making it!!!  I hope I have inspired you to go through those drawers, find your hidden treasures, and create something that makes you happy!
Thanks for stopping by!  Hope to see you tomorrow for the continuation of our Yearbook Altered Easel Album project, month November.