Memories Galore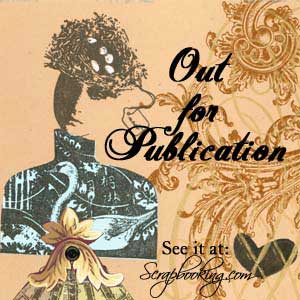 Altered Album Creative Workshop with Melissa Samuels $72
"On the boardwalk, down by the sea…"
Take a day-long journey through the world of mixed media art and create
this striking altered album that is a sensory experience. We'll begin
with ordinary book pages and scrapbook paper that we paint, glaze and
ink to create an album that looks like an antique you would find in
grandma's attic. Learn collage techniques using ordinary napkins, and
incorporate materials such as nailheads, steel wire, mesh, and elastic;
as you create a tactile work of art. Learn tracing techniques for
creating altered art, work with vellum, paint with distress ink, set
eyelets, use acrylic paint, glaze, and gel medium.  This workshop is
sure to be an experience you won't want to miss!


• West End: Saturday, May 15th from 10am-5pm
——————————————————————————————————————–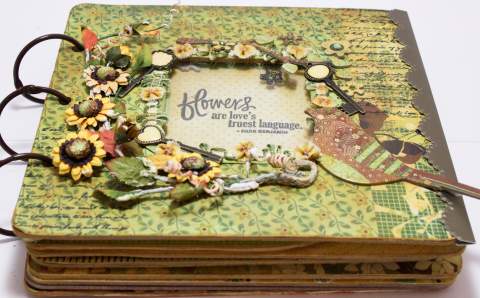 Nature's Gifts Album Creative Workshop with Melissa Samuels $96
Expand your scrapbooking horizons in this
day-long workshop with Melissa. Create this absolutely stunningly
unique 18 page (front & back) 8×8 board book using BasicGrey's
Origins collection done in gorgeous hues of green and yellow. Learn how
to use acrylic paint and glaze to take your 7 Gypsies album to a whole
new level. Add dimension and flare with metal page edging and mesh. 
Stamp, ink and Stickle the day away!  Makes a perfect gift, if you can
part with it!  This will definitely be an experience to remember.


• Brandermill: Sat., April 24th from 10am-5pm
—————————————————————————

Pop-Up Round Mini Album with Melissa Samuels $24
This class is the perfect combination of
folding and mini albums. Its unique, round design and pop-up feature
sets it apart from the
typical mini. The album is held open with hidden magnets, and folds
completely for mailing to the unsuspecting recipient. It is created
using Graphic 45's Le' Romantique collection; giving it a vintage and
timeless feel. This album will be
published in the April 2010
issue of Scrapbooking.com Magazine!
Be among the first to take this exclusive class.
• Brandermill: Fri., April 9th from 6:30-8:30pm


• West End: Tues., April 13th from 6:30-8:30pm
———————————————————————————————————————-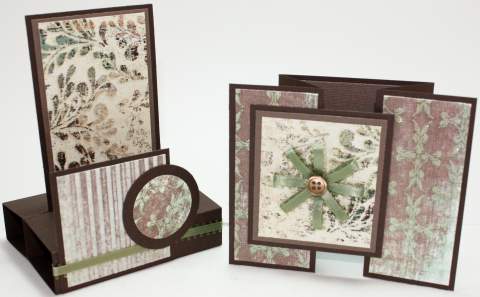 Fabulous Folding Cards with Melissa Samuels $20
In this class create two "fabulous" cards
that are perfect for any occasion. You'll warm up your
folding skills with a gatefold card made from glittered papers and
embellished with a handmade
ribbon flower. The second card doubles as a photo stand, and folds
neatly to fit inside of a standard
A2 size envelope. Perfect for adding a photo or a stamped sentiment.
Both sleek and elegant card
designs are made from the luxurious My Mind's Eye Laundry Line
collection.
• Brandermill: Tues., March 23rd from 6:30-8:30pm


• West End: Fri., April 16th from 6:30-8:30pm
——————————————————————————————————————–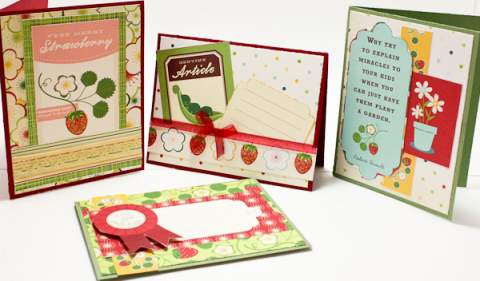 Basic Cards with Melissa Samuels $20
This class is perfect for the beginner or
seasoned cardmaker looking for "no fuss," basic yet creative card
designs. Students will create
four elegant cards while learning standard card size, paper layering,
vertical and horizontal orientations, adding dimension, using Stickles
and ribbon, placement of design elements, and more!
• Brandermill: Wed., March 31st from 6:30-8:30pm


• West End: Mon., March 29th from 6:30-8:30pm
———————————————————————————————————————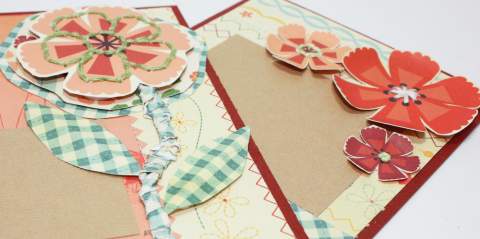 It's a Stitch Cards with Melissa Samuels $20
Add texture and depth to your cards with
stitching. Create two gorgeous hand stitched cards using Bazzill's In
Stitch'z templates and floss. The recipients of these cards are sure to
be impressed! And, it's only fitting to use Cosmo Cricket's new
Material Girl paper collection.
• Brandermill: Thur., April 22nd from 6:30-8:30pm


• West End: Tues., April 27th from 6:30-8:30pm
———————————————————————————————————————-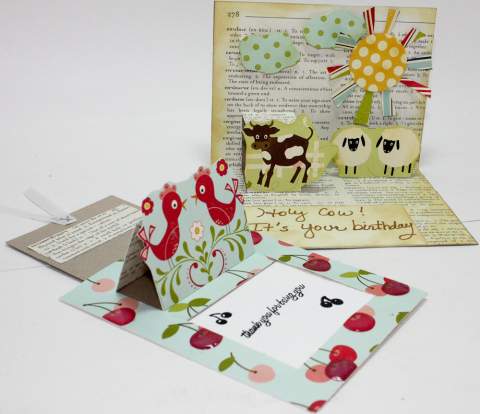 Cards That Pop-Up! with Melissa Samuels $20
In this class, you'll create two
whimsical, all-occasion pop-up cards. Learn the technique of making a
traditional pop-up card that you're sure to use again and again. Then,
create a unique pop-up with a pull-out tag that reveals a message
inside the card. The possibilities are endless with these two
interactive card designs!
• Brandermill: Mon., May 17th from 6:30-8:30pm


• West End: Fri., May 21st from 6:30-8:30pm
———————————————————————————————————————-
Card Crops with Melissa Samuels $10
Come join friends at our Card Crops and
papercraft the evening away! If you just want to relax and play, or if
you need time create cards,
this will be the place for you. As your crop hostess, Melissa will be
available to offer tips and tricks, as well as inspiration. There will
be a
card sketch challenge with prizes to add to the fun, and a scrap
exchange, so don't forget to bring your scraps! Refreshments will be
provided.
• Brandermill: Fri., April 30th, 6-11pm
• West End: Fri., March 26th, 6-11pm