My hubby is working hard on a complete overhaul of my scrapbook room.  I picked a beautiful & cheery paint color, and he's making custom built-ins for my paper storage.  I've had the hardest time trying to find a work light that gives off lots of light, but doesn't look hideous.  I found the perfect light, but when we got it home and hung it, it just wasn't bright enough.  So, back to the drawing board on that one!  With all of my scrapbooking supplies spread out in the foyer and family room, my house looks a war zone (with lots of casualties). 
While I was waiting for my room to be finished, I thought I'd work on a painting to go in there.  It's been soooo long since I've painted on canvas, I was hoping I would remember how :-)  It didn't turn out exactly like it was in my head, but I think it will do.  I used acrylic paint, distress ink, and glimmer mist (why not use scrapbooking supplies if it gives you the desired effect, right?).  I had some Fancy Pants papers I had been dying to do something with, Prima flowers, and Webster's Pages ribbon & lace.  I wanted something shabby chic and different.  I hope you like it!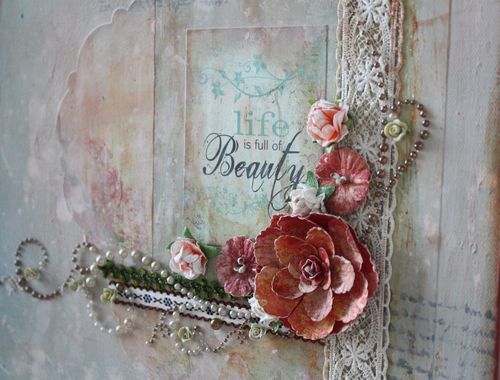 Stay tuned for the "Big Reveal" when the room is finished!!