Hey guys!  I know, I've been terrible about blogging lately.  I've been C-R-A-Z-Y busy, and I've really missed doing it!  Hopefully, I'll get back on track this week.  Lots of exciting things happening.  I have a new card class on the calendar to show you, pictures from my class last week, lots of new product in the store, and lots of CHA goodies on the way!  I was also thinking it's been awhile since I've done a giveaway, so I'm doing that today too!    Soooo….let's start with the new class.
It's called Parisian Anthology Cards Workshop, and you'll be using Pink Paislee's special resist papers to ink the backgrounds of the 4 cards shown.  You'll also receive enough materials to create an additional 2 cards that you design and create, and materials for 6 envelopes!  The kit comes with Tim Holtz Grungepaper diecuts and magnets for creating an elegant card closure, as well as vintage sheet music, Prima Studs, clips, flowers, seam binding, lace, and more!
Class dates:
February 25th, 6-9pm Glen Allen Cultural Arts Center (click here to sign up) 10% off class fees until February 14th.

March 7th 8pm UStream (click here to sign up) Pre-order your kit from now until February 14th for a 10% discount.  Kits expected to ship around February 14th. (INK NOT INCLUDED)
Visit my UStream Channel to watch the latest class recordings (click here).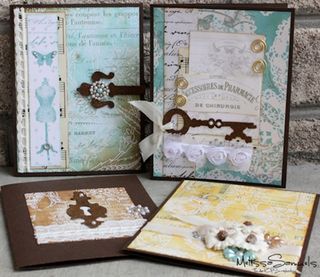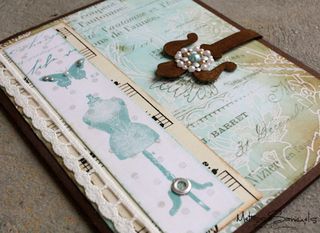 Here's a peek at the Valentine Sweetness Cards Workshop I held last week at the GACAC.  It was so much fun, and a fantastic group of ladies.   I can't wait to do it all over again!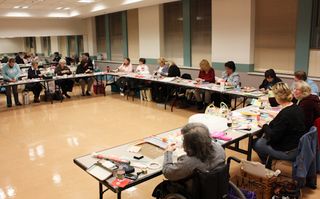 The next class on the calendar is my "Charming Adorable And Ever So Sweet" Envelope Mini Album that I'll be teaching at GACAC and UStream.  (Click here to read more about that class)
There's lots of new goodies in the shop.  I have the newly released  7 Gypsies' Lille collection (paper, tags, pads, paper clips, and paper tape).  The brand new Stickles colors are in the store!  The not yet released Maya Road White Organza Rose Ribbon is now in stock, too!
Okay, now, for what you've been waiting for, the giveaway!!  I'm going to be carrying Somerset Studio and Art Journaling magazines in my store!  Somerset has been kind enough to send me some to give away!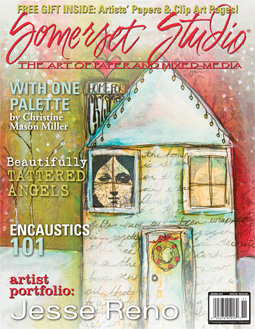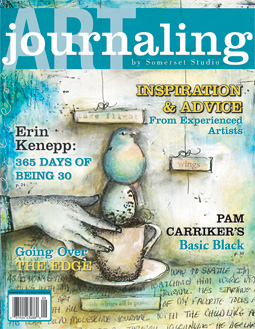 For a chance to win, become a member of my blog (with Google Friend Connect located on the right sidebar of the blog), join my "crowd" on UStream (click here), and leave me a comment (any comment) on this post.  (If you're already a member or in the crowd, you can still leave a comment for a chance to win).  The winner will be announced on Friday.  Good luck, and come back to see if you're the winner!