I have some wonderful news to share with you guys!  I was contacted a few months ago by the editor from one of Stampington & Company's magazines, one of my very favorite publishers, asking me if I would like to be a contributor for one of their Autumn 2014 publications.  After I made certain one of my best friends wasn't punking me

, I believe my response was something like, "Are you kidding me?  Absolutely!" It was all I could do to keep from saying, "HELL YEAH!"   But, I was trying to be professional.
It has been a dream of mine, that for some reason I have never pursued, to be published in a Stampinton & Company publication.  It is a very special honor to be a contributor in Artful Blogging Autumn 2014 magazine with my article titled "Art as a Transcending Experience" for many reasons.
My artwork has been published in other magazines, but this is my very first contributing article.  Usually I provide the photos or artwork, and the magazine does the rest (except for online publications).  This time I was given the opportunity to write.  At first I almost had a panic attack because I thought, "I'm not a writer!!"  Then, Bob, who always grounds me, reminded me that the editor read my blog and saw the photos of my artwork, and that is why she chose me.  So, once I pulled myself off the ceiling, I told my story.  I went back to the very painful beginning of my journey, and poured my heart and soul out onto those pages.  It could be boring, a little embarrassing, but hopefully also inspiring.
It also means so very much to me to be recognized for my entire blog, not just a single piece of artwork.  That is one of the biggest accomplishments of my career.  Blogging is one of my favorite aspects of what I do.  My blog is a place where I share my work, inspire others, create friendship in this amazing art community, and is a little bit of therapy for me (I should be paying you guys the copay I'm saving

).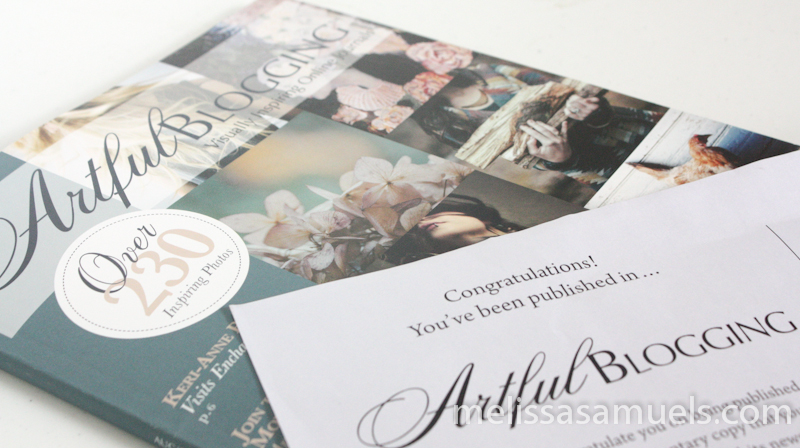 You can imagine how giddy I was opening my artist's copy!

Here is a little peek at the inside.  The article runs from pages 22 to 29.  How awesome is that, eight pages?!?  One of my mini album pages with the girls' photos was featured on an entire page.  After they saw it they asked, "Mommy, does this mean we're famous?"  I giggled and said, "Considering how much all of my Facebook friends like you guys, probably."
Artful Blogging Autumn 2014 is coming out August 1st.  You can pick it up at any book seller that carries Stampington & Company magazines (such as Somerset Studio, Art Journaling, Somerset Memories just to name a few) such as Barnes & Noble.
I will be receiving a shipment of magazines that should be available to ship by August 1st.  If you are interested in reserving a copy from me with a personalized note, drop me an email at melissa@melissasamuels.com for payment info.