Happy Halloween!  I hope you have a spook-tacular day!!!

  I thought it would be fitting to share more of my all time favorite Halloween projects with you.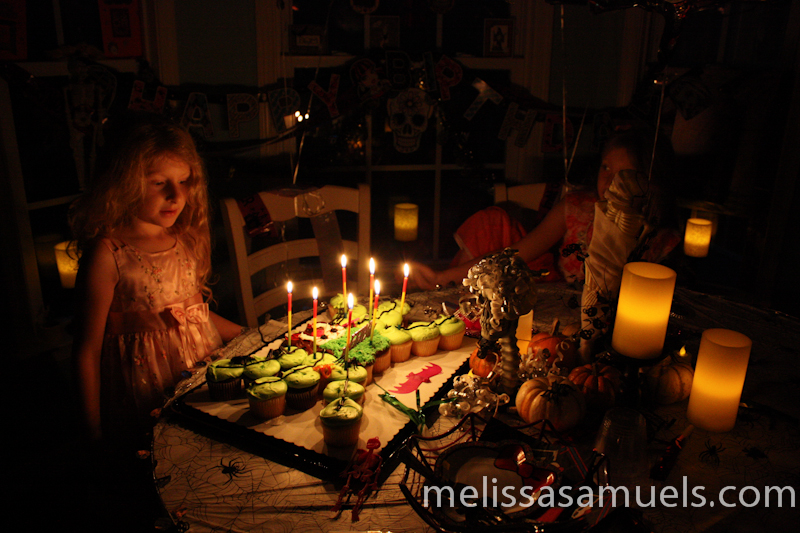 First, I want to say thank you to everyone that wished Lily a happy birthday yesterday.  She had a wonderful day, and of course, is ready for Halloween!
Since you guys know how crazy I am about Halloween, here are some more of my all time favorite projects.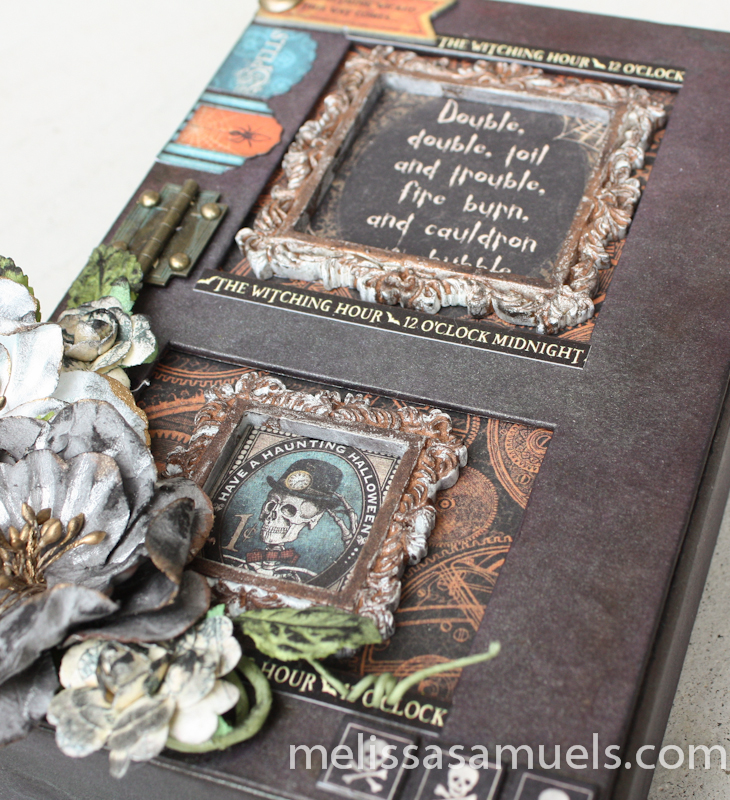 This is hands down my favorite Halloween project ever!  I made it in the beginning of the year (I know it wasn't Halloween, but when the mood strikes…), and it was featured in Artful Blogging magazine's Autumn 2014 issue.  What an honor!   It is an altered Graphic 45 box decorated with Glimmer Mist, Steampunk Spells papers, and Prima flowers and resins.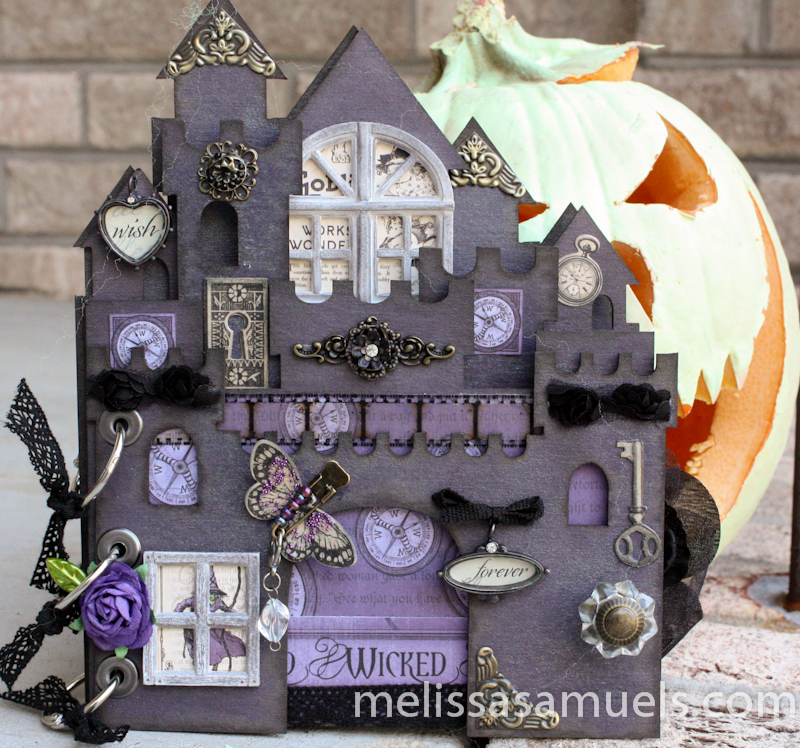 This is another project I LOVE!  It is made from a chipboard sandcastle book, but I thought it would be more fun to make it into a spooky haunted house book.  I love the metal embellishments and resins.  Over the years, I have been tagged on Facebook, or emailed, other artists' versions of this project.  I love it, and love how so many have created their own Halloween themed sandcastle book works of art!!  I feel honored to have inspired you guys!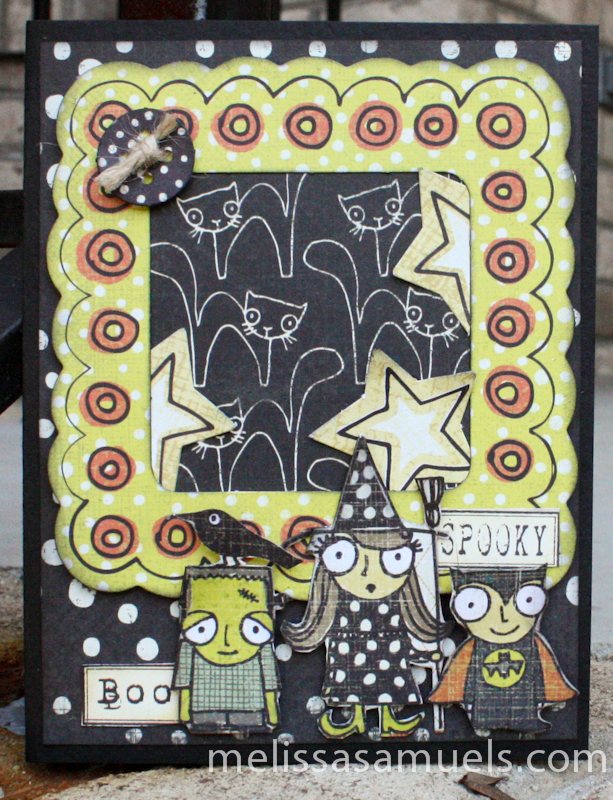 Since I am an avid cardmaker, I did not want to leave out the cards category among favorites.  I made this card a few years ago, and still think it is cute as a button!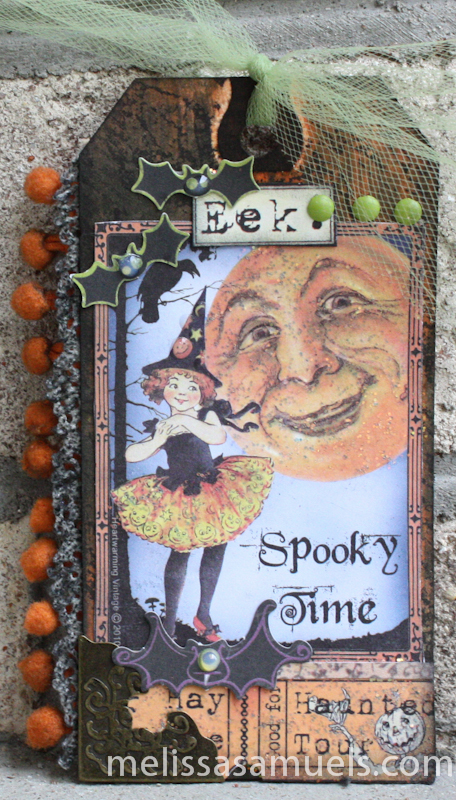 Lastly, I have a couple of super cute Halloween tags I created many years ago, and think they are adorable.  I hope you do, too.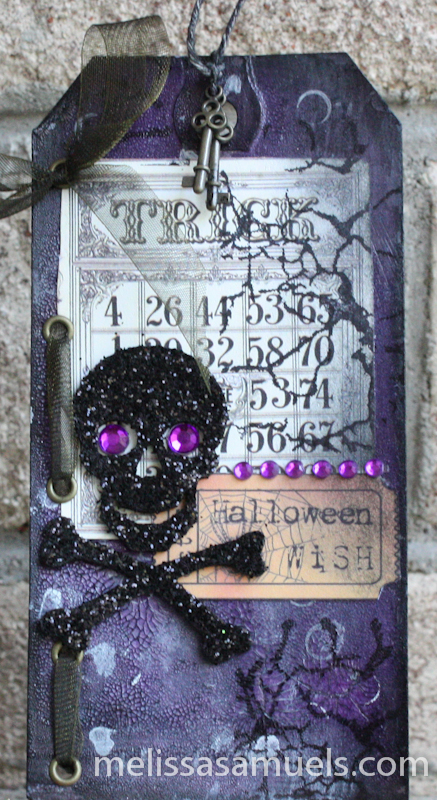 So, there are the rest of my favorite Halloween projects I have created over the years.  I hope you all have a spooky Halloween, and collect lots of yummy candy!
Before I go, I want to give you a sneak peek at a Christmas card class kit I am working on.  I know, it has been entirely too long since I last did a class, but teaching is calling my name.  I am so excited about this kit, and thrilled that it contains 12 cards!!!!  I tried to stick to simple yet elegant designs so you can get all of those Christmas cards knocked out in a jif!  Next week I will be giving you the complete low down about the kit & class, opening registration, and shipping kits, so be sure to come back!