Hi Everyone!  Sorry I missed Tutorial Thursday last week.  The Fall Distress Ink Sets arrived at the store, and we vowed to get them shipped the same day.  It was pretty crazy here…that good kind of crazy:) 
To make it up to you guys, I'm going to do a project post every day this week, so make sure you come back each day.    Today I'm starting with a canvas frame I made using the canvas atc's from this Tutorial Thursday post (click here).  When I started I intended it to be a layout, but until I have Halloween pictures, I decided to use it as wall decor using those atc's.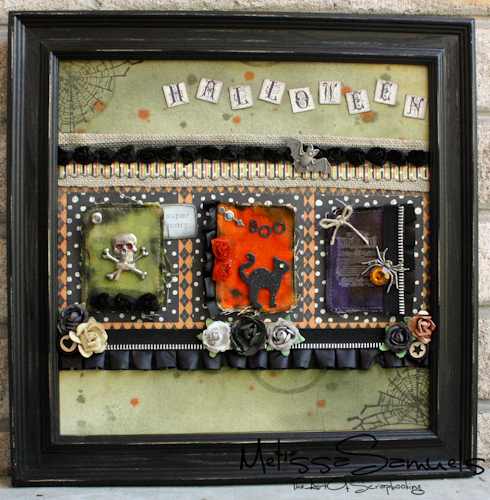 I started with 12×12 Sticky-back Canvas.  I sprayed the corners with Chalkboard Glimmer Mist Fern.  I then filled in the rest of the canvas with Chalkboard GM Medallion.  I sprinkled (with the end of the sprayer right out of the bottle) a few drops of Glimmer Mist Pumpkin Spice randomly on the canvas.  I dipped the rim of a canning  jar into the excess GM Fern to "stamp" circles.  I stamped the edges (with Stazon) using the Tattered Angels Halloween Hauntings stamp set.  TIP:  when using large Tattered Angels stamps, if you don't have a block large enough, using the thick plastic packaging that comes in the stamp.  Works great!   Back to the layout, to decorate I used MME Blackbird paper kit, MME Sunshine burlap trim, Maya Road Roses Ribbon Black, Tim Holtz Adorments Halloween, Prima Sherwood Ember Rose, Prima Printery Coventry Roses, Maya Road Zipper Trim, Maya Road 1" Satin Pleated Edging Black, Creative Scraps Halloween Greetings for the word Halloween, and Prima 12×12 opening Frame.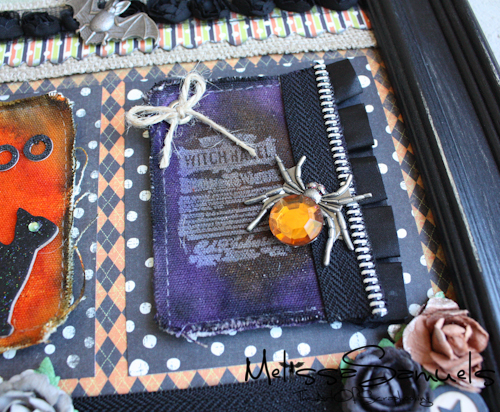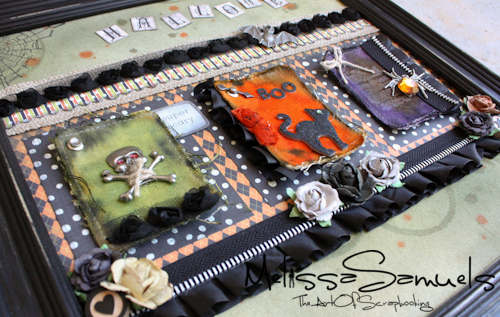 After Halloween, I will put pictures of the girls dressed in their Halloween costumes on my layout in the place of the atc's.  Can't wait!
All of the products used in this project can be found in my online store http://www.melissasamuels.net.
STORE NEWS:
We have made some exciting new changes to the store to improve your shopping experience.  You can now shop by categories using the drop down menus at the top of the page (under the tabs).  We have created more sub-categories to make browsing easier.  The Sale items can now be found on the "Sale" tab at the top of the page under the store logo.
Now we accept VISA, Matercard, and Discover 
in addition to PayPal!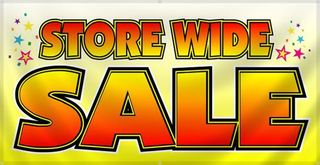 While I was working in the studio yesterday, Bob put EVERYTHING in the store on SALE!!!  Yes, he's a bad boy:)  While the cat's away, right?!