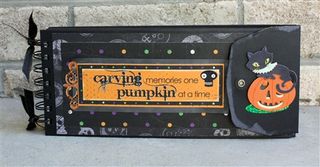 One of my favorite holidays is Halloween.  I'm not sure if it's the cool fall weather, getting the kids dressed in costumes, or just the spookiness of October 31st that makes me love it so.  For the last several years I've been making mini albums instead of doing 12" x 12" layouts to commemorate the occasion.  To me, it is much quicker and easier to knock out a little mini, than trying to get layouts done.  I do traditional layouts for Christmas, and I'm about 3 years behind.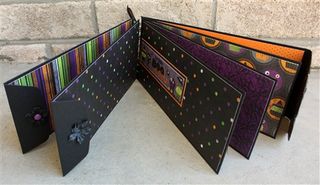 This year, I decided to do an envelope mini for Halloween.  I covered the pages with Bo Bunny paper cut to 3 7/8" x 9".   Once I have my pictures I can use the scrap paper for photo mats, and finish decorating it.  I can use the envelopes for storing extra photos, and some of the candy wrappers (stuff like that's pretty interesting in 20+ years).  I removed the string closure, and replaced it with a magnet.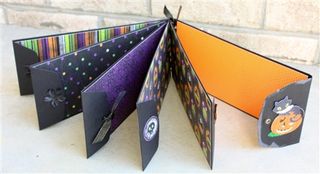 This album is made from a Graphic 45 Black Policy Envelope Album available for purchase in my shop.