I'm really diggin' the Sizzix Tim Holtz Alterations Bigz Dies, particularly the Tattered Florals.  If you know me well, and know that I'm NOT a diecut person, you're probably rereading that sentence to make sure you read it correctly.  I guess I like that the Tim Holtz diecuts are so versatile and alterable (not cheesy).  I used the Tattered Florals for my Valentine Cards and thought  it would be good for a hundred other projects.  So, I had to experiment to see what I could come up with.  Here's what I did:
I cut a set of diecuts out of Webster's Pages Wonderfall paper, vellum, and netting.  I inked the edges of the paper diecuts, layered them all together, punched the center with the Big Bite, inserted a brad, and covered the brad up with a rhinestone.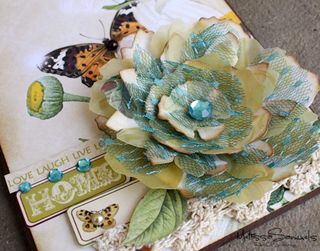 It made the perfect embellishment for the front of a card.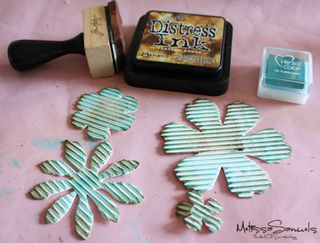 I cut another set of diecuts out of corrugated paper.  I then inked the edges with Distress Ink, and ran chalk ink over the grooves.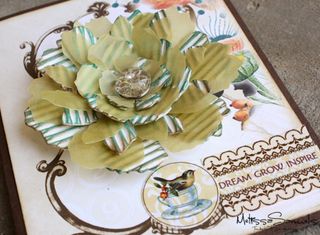 And, another flower perfect for a card.  It would also be great on the front of a mini album, art journal, or even on a layout.  Next I  think I'm going to cut some out of transparencies…maybe alcohol ink them…or grungepaper…or a sheet of thin metal…oh yeah, lots of possibilities.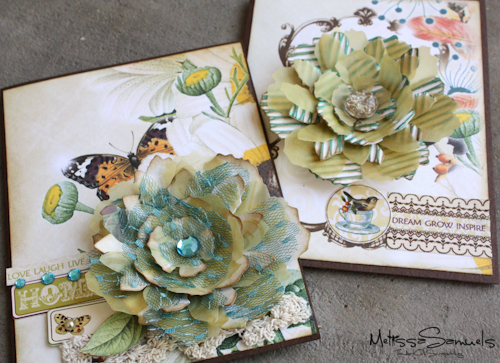 Don't forget to enter my Giveaway!  Click here