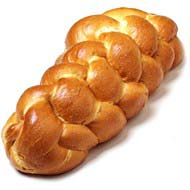 Today,  I thought I'd share with you one of our family traditions.  Almost every year after Christmas dinner is done and the dishes clean-up is over, I make Creme Brulee French Toast while everyone chats.  I love it because it's easy to put together, and it just goes into the refrigerator to chill out until the next day.  The morning after Christmas, I pop it in the oven, usually before anyone wakes up, and within 40 minutes the house is filled with the yummy smell of baking french toast.  It puffs up, all golden-brown and delicious.  We all eat our breakfast, and have lots of energy for after Christmas shopping.  It is definitely a family tradition I look forward to each year.
In the spirit of giving,  I thought I would share my secret recipe with you!
Creme Brulee French Toast
Ingredients:
1 stick of unsalted butter
1 cup packed brown sugar
2 tablespoons light corn syrup
1/3 cup pecans
1 loaf Challah bread (Montana Gold Bread Company is a great source for this if you live in Richmond, VA)
5 large free range eggs
1 1/2 cups half & half
1 teaspoon vanilla
1 teaspoon Grand Marnier or Cointreau
1/4 teaspoon salt
Directions:
Melt butter with brown sugar and corn syrup, stirring until smooth.   Pour mixture into a 13" x 9" baking dish, and sprinkle with pecans.  Cut bread into 1" slices, and arrange in a single layer in the baking dish, squeezing them together to fit.  In a separate bowl, whisk together eggs, half & half, vanilla, and orange liquor.  Pour evenly over bread, and chill covered in the refrigerator for at least 8 hours or up to a day.  When ready to cook, remove from the refrigerator to come to room temperature a bit while the oven preheats to 350 degrees.  Uncover and bake until puffy and golden, 35-40 minutes.
Hopefully, after Christmas I will have a picture of the finished product!  I hope you try making this,  because it is so delicious and easy.  What family traditions do you have for the holidays?