That's right, I'm baaaack!  I am so excited I can barely contain myself!  I have designed the most delicious Christmas card kit, and will be doing a UStream workshop.  I am super excited (in case you couldn't tell) about this kit for several reasons.  During the Christmas season us cardmakers want to mass produce cards, so I kept the design simple.  I think anyone can follow the directions in this kit (and you have the live UStream with chat to fall back on if needed). I picked the tags for the front because they are not all "Christmas."  We all have friends that celebrate the seasons, so we can respect them.  Also, we don't want to have to worry about extra postage or whether our cards will make it through the mail in one piece, so I designed cards that have dimension but not bulk.  I have done that by using paper layering, ribbons, and simple flowers with small pearls.  I'll even show you how to make glittery banners from scratch, so easy you won't believe it, but you will get the handmade card experience.
This card kit is BIG!  I have included enough materials for you to make 14+ cards and 14 envelopes, so if you make a booboo creating the 12 cards I have designed for you, no worries!  All the patterned cardstock in the kit is double-sided, so you have even more options if you are a "off the farm" kinda person.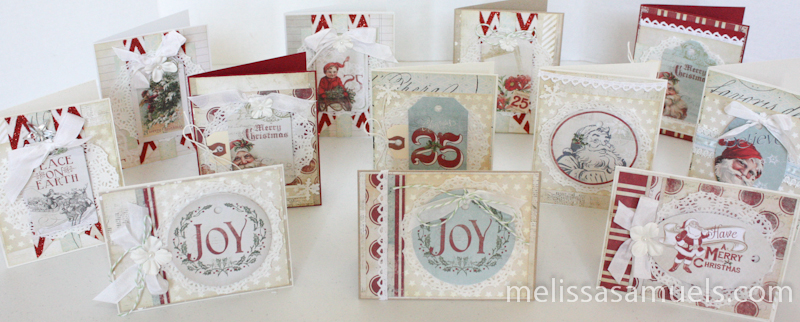 Here is a look at the 12 cards in the kit.  You will have written step-by-step instructions with color photos.  The UStream Workshop will be Monday, December 1st at 6:30pm EST.  It is free to everyone!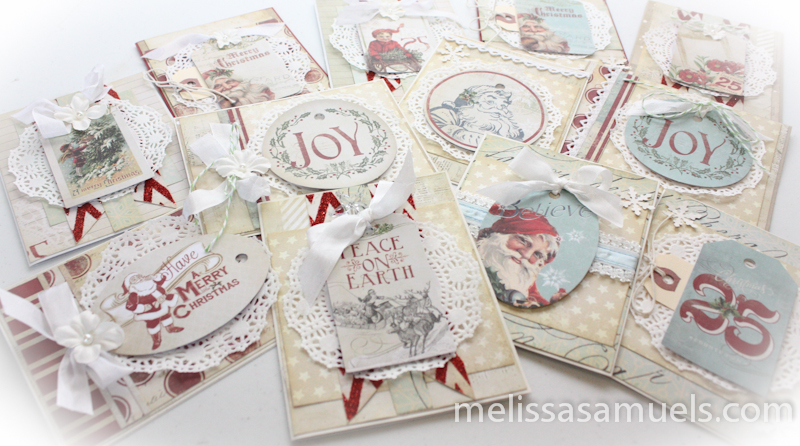 Who would not love getting one of these handmade cards in the mail?  Even the envelopes are handmade!  That says love!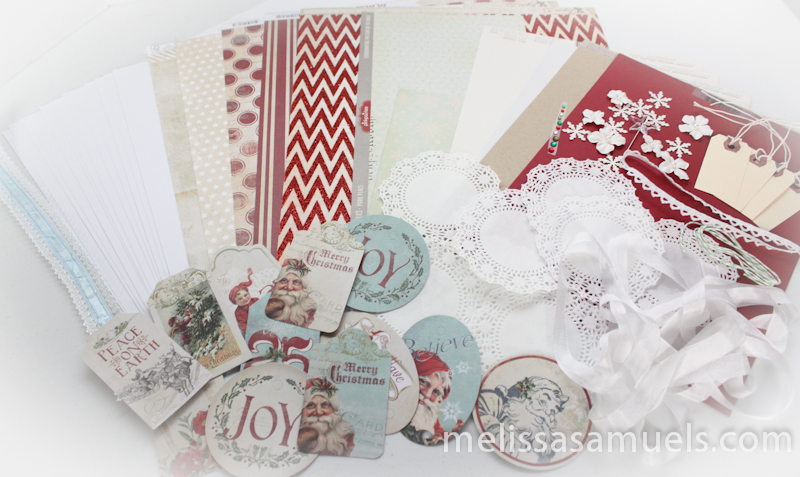 Now you do have 2 options.  The first kit is for blank cards.  If you already have stamps you would like to use on the inside, or prefer a handwritten note, this is the kit for you.  CLICK HERE TO TAKE A LOOK IN THE STORE or Order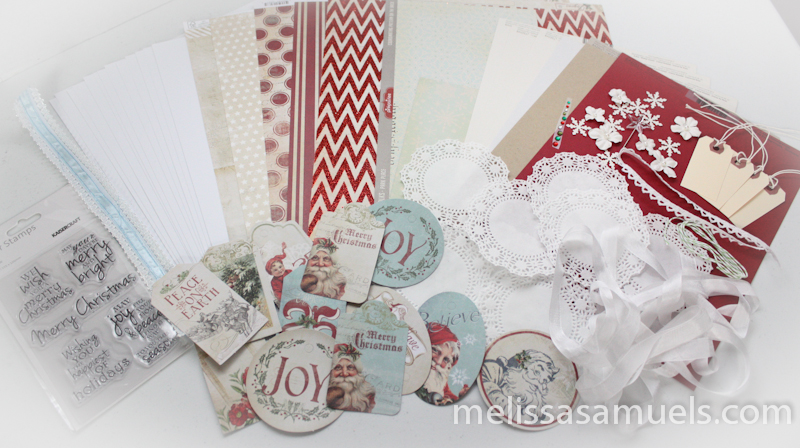 If you want the whole kit and caboodle, so to speak, then option 2 might be just what you need.  It contains a gorgeous stamp set with sentiments to use on the inside of the card.  Not to mention, you can use it for years to come.  It's that awesome!  CLICK HERE TO TAKE A LOOK IN THE STORE or Order
Despite which one you pick, they are, unfortunately, limited.  The manufacturer has discontinued the tags in the kit (before Halloween even…they are that cool).  So, once they are gone my friends, they are gone.  My local friends, expect an email from me soon. 😉
In other exciting news, I have an excerpt from my blog published in the current issue (released November 1st) of Artful Blogging magazine under the Blogger Buzz section.  What an honor, again!!!  It was a shout out about having my article and work published in the Artful Blogging Autumn 2014 issue…an 8 page spread…okay, I'll stop tooting my horn now.  Thank you guys so much for all of your love and support.  You have made it possible for me to be here, and keep me going!  Love ya!