I'm excited to announce that I have been asked to join the Design Team over at Passionately Artistic!  They have lots of fun tutorials and "Be Inspired Wednesday" projects to get your mojo going.  They throw awesome Linky parties, and invite everyone to strut their stuff.  I'm so honored to join such a talented group of ladies who generously offer up so much inspiration!
So, here's the super exciting part!!!  My first project is a Christmas Blog Hop!!  Without further ado…
We would like to introduce our new sponsor:   Want2Scrap.com!!!

Want2Scrap Scrapbook Manufacturer is proudly sponsoring the Passionately Artistic blog hop! Let me tell you, the line of rhinestone bling and embellishments they currently have is fabulous.  Seriously! If you just can't stop yourself from putting bling on anything that doesn't move, you need to go visit them.  Want to know the best part??  Their prices are really great too.
Here's the "12 Days of Christmas" album I made using their ring bound book, Bling, and Baby Bling Pearls.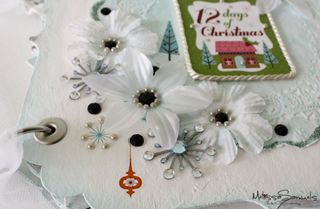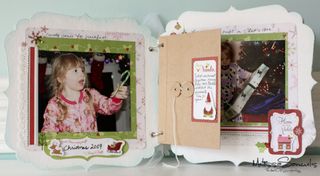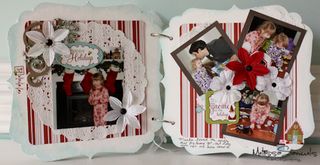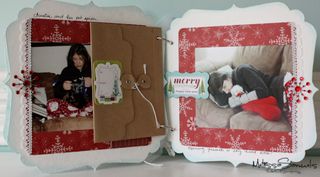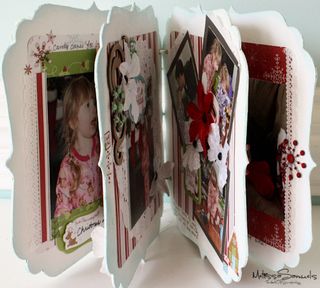 Supplies Used:
Want2Scrap Ring Bound  Album                                                     Bling and Baby Bling Pearls
Glue Dots                                                                                                   Distress Ink
Doilies & Craft Envelopes                                                                    Trims

Imaginisce Christmas Cottage 12×12 papers, stickers, rub-ons, and flowers
How To:
1.  Paint the chipboard pages with white acrylic paint.  
2.  Lightly inked all the edges of the pages, front and back, with Tumbled Glass Distress Ink. 
3.  Glitter a doilie for the front cover, and add Imaginisce flowers with lots and lots of Want2Scrap Bling encompassed in Baby Bling Pearls!  
4.  Cut Imaginisce Cottage Christmas papers to 6" x 6" and rounded the corners for the inside pages.  Adhere with Glue Dots.
5.  Embellish!
Tip:  I added rub-ons that I glammed up with Baby Bling Pearls.  
What a wonderful way to commemorate the holidays!  Do you have a family tradition you'll be scrapping this holiday season?  Every year we get all of the kids together to build a gingerbread house.  We put on Christmas carols, build, and eat frosting and cookies until we feel sick:)  Happy holidays from our family to yours!
Leave a comment for a chance to win a great prize!!  A winner  will be announced December 18th.  Here are the rules:

Become a follower of  Passionately Artistic and Want2Scrap blogs if you are not already, leaving comments on both sites for all 12 days of Christmas posting for a chance to win.
Leave as many comments as you wish, blog about it, tell your friends on twitter, facebook update.
not one but 2 fantastic prizes. 
Leave a comment for each designer on the list to be eligible for the grand prize.  Did I mention that there will be two winners of the grand prize??  Yes that's right.  One winner will be announced on the Passionately Artistic blog and the other winner will be announced on the Want2Scrap blog. On December 18th.
In addition to the blog hop prizes, we have a few additional  designers giving out goodies as well . . so be sure to visit each blog because if we told you it wouldn't be as much fun eh?
Here's the list of designers, so get hoping:
http://Passionatelyartistic.com
http://want2scrapco.blogspot.com/2010/11/blog-hop-passionately-artistic.html
Michele  http://inspireyourcreativity.blogspot.com/2010/11/blog-hop-with-passionately-artistic.html
Sandee   http://simplysouthernsandee.blogspot.com/2010/11/its-passionately-artistic-christmas.html
Maggie   http://www.maggielamarre.com/2010/11/want2scrap-blog-hop-and-fun-tutorial.html
Terrie     http://terriebaileys.blogspot.com/2010/11/want2scrap-blog-hop-fun.html
Tracy     http://thelittlebluehouseblog.blogspot.com/2010/11/welcome-passionately-artistic-blog.html
Ellen       http://closeyourears.blogspot.com/2010/11/passionately-artistic-blog-hop.html
Melissa   http://www.instampingmode.com/2010/11/passionately-artistic-blog-hop.html
Mimi       http://mycharmingblog-scrappermimi.blogspot.com/
Dana       http://paperdaydream.blogspot.com/2010/11/holiday-blog-hop.html
Court      http://courtscrafts.blogspot.com/2010/11/want2scrap-blog-hop.html
Melissa   http://blog.melissasamuels.net/2010/11/big-announcement-blog-hop.html (you are here)